Jurassic World: Dominion Dominates Fandom Wikis - The Loop
Play Sound
"Kataru and I entered the Wilderness, unsure where our journey would take us, fearing that Vex's return was a bad omen. The Choosing must pass in silence. So we did not speak. We waited. And waited. For what, we did not know. A sign, a vision... something to guide us to our animal forms."
Akita (formerly nicknamed Red by Lloyd) is a Formling who lives in the Never-Realm, and the younger twin sister of Kataru. She has the ability to morph between the form of a three-tailed wolf and a human. She was the only Formling aside from her brother that hadn't been frozen by Boreal.
She confronted Zane intending to kill him for revenge. However, he froze her. Afterward, Vex accidentally managed to free Zane from the former's manipulation, and Akita thawed along with the rest of her people.
Following the Ice Emperor's defeat, she was reunited with her brother and her people were freed from their imprisonment as peace returned to the Never-Realm.
History
Akita and her twin brother, Kataru, were about to find their animal forms in the Choosing. However, on that day, Vex had arrived and threatened them for their loyalty since he found new power in his self-exile but the Formlings refused to serve and he promised to return with a stronger force.
The encounter left a mark on Akita who worried if she ends up like Vex should she fail but she was assured by her brother. The siblings set off, looking for the animal spirits to guide them. They set camp in the forest for the night.
When Akita woke up, she heard a voice calling for her. Lured by the sound, she climbed a tree into the clouds, where she saw her animal, a three-tailed wolf. She raced to catch the spirit and earned the form of the wolf. When she returned, she was suddenly attacked by a large bear, which she realized was her brother in his new animal form. Both cheered, as they have found their animal forms. Akita decides to go for a walk in the forest.
When she returns to the village, she finds it frozen, along with the people. The Formlings have been encased inside of big blocks of ice. She weeps, saddened at the loss of her people. She sees Boreal, Vex, and the Ice Emperor. She heads toward Vex and the Ice Emperor but is attacked by Boreal. Kataru appears in his bear form, defending Akita. He slashes at the beast, scraping its wings. It roars, and Akita tells for Kataru to run. But Kataru continued to fight Boreal, who covers him with a beam of snow.
Akita was devastated when she saw that Kataru was gone. She watched in anger as Vex, the Ice Emperor, and Boreal, satisfied with their deed, left the village and broke down because she was the last Formling left. Akita headed out of the village, never looking back. She vows to return, and bring justice to her village.[1]
Before the ninja entered the Never-Realm, Akita gave a brief history of the Ice Emperor and his takeover of the Never-Realm decades ago; however, she believed someone will stand up against his evil reign.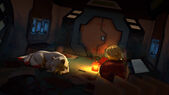 When Lloyd went to search for Zane, he got ambushed by some Frost Wolves, but Akita, in her wolf form, saved him, and he rewarded her with his food before leaving. She later dragged him when out from Wojira's Wrath when he was unconscious, she later helped him find the Land Bounty and the two became allies.
Lloyd and Akita followed the tracker to the Titan Mech until they were under attack by an Ice bird, the bird was able to grab ahold of Lloyd shortly before Akita jumped on it, saving Lloyd for the third time. The two were able to hide out in a cave where they discovered the Mech and a message by Zane. After listening to Zane's message, Lloyd fixed the Mech and defeated the bird before taking Akita onto the Mech in order to find Zane.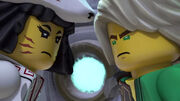 While piloting the Titan Mech, Lloyd was telling Akita about his past and his previous enemies such as his father and Harumi, not knowing the fact that Akita hated listening to his stories, the two were later attacked by the Ice Behemoth, Akita got hurt while fighting against the golem. Lloyd bandaged her leg and they rested for the night. Akita unintentionally transformed into her human form during the night leading Lloyd to an unexpected surprise the next morning.
The two started to argue and decided to go to separate ways, but they were heading in the same direction. With Akita's leg not fully healed, Lloyd advised her not to run. Their friendship was restored, and Akita offered to tell him her backstory, to which he accepts.
Akita told Lloyd about who she is, a Formling, and revealed the story of the destruction of her people. She reveals to Lloyd that while she will still travel with him their goals differ because she wants vengeance on those who scarred her.
Akita and Lloyd almost made it to the Castle of Ice, but Lloyd stopped. She changed from wolf form to human form to ask what is it they should wait for. Lloyd told her that it was almost nighttime and they will have a better chance getting inside at dawn. They made camp and Lloyd asked Akita what she will do once she got her revenge. She admitted that she didn't know. Lloyd suggested that Akita should join him and the others on their way back to Ninjago.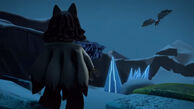 Before they were able to discuss further, Boreal flied back to the castle. Akita returned to wolf form and Lloyd entered his Titan Mech. Recognizing him as the dragon who froze her village, Akita barks at Boreal and drawed his attention. Lloyd shielded her from Boreal's blasts only to be taken captive. Akita tried to save him but failed. She returned to her human form, looking up helplessly as she saw Boreal return to the Castle of Ice with Lloyd in his claw.
Making her way to the Castle of Ice, Akita shivered from the cold until she saw the castle, she easily took out two guards and went inside looking for the Ice Emperor.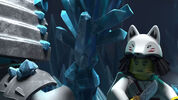 Akita used stealth to make her way through the castle and made it to the throne room where the emperor is seemingly asleep. Drawing her dagger, Akita sneaked upon him to finish him until a noise is heard which awoke the Emperor. A fight brke out, as Akita told him that she wanted to avenge the Formlings, the Emperor brought up Vex's stories about them, disgusting her.
Akita fought the emperor and held her own until he froze her arm. Just as he moved to finish her, Lloyd bursted in, she was surprised at him calling the emperor "Zane."
Akita was curious that Lloyd knew the Emperor and learned that he was Zane, the friend he was looking for. Despite this, she still tried to finish him. Lloyd stopped her and they argueed with each other until Zane smacked them both down and a battle ensued between them.
When Lloyd was frozen in place, Akita threw her dagger at Zane in an attempt to save him, though it was ineffective and Akita was frozen by Zane and left incapacitated for the rest of the fight.
After Zane regained his memories, she was freed when he destroyed his scepter and liberated the Never-Realm. Akita fell from exhaustion, having been frozen for a while.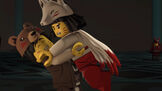 Akita regained consciousness and was surprised to see her brother who happily hugged and picked her up after being separated for so long. With the Ice Emperor no more, Grimfax took back control and consulted with the Formlings and they agreed under the decision to banish Vex to the outskirts of the Never-Realm. Akita was present when the punishment of Vex was carried out.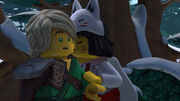 Akita was at the Great Lake when the ninja were about to leave the realm. They both told the other to take care before she watched Lloyd leave her world. Lloyd struggled to say the proper words of goodbye to her, but she seized the moment and kissed him on the cheek, shocking Lloyd.
After Lloyd and the others left, Kataru took her to the woods, where they took on their animal forms and started roaming the now peaceful area. Akita knew this was her brother's way of comforting her and Lloyd's departure but she was confident that they will meet again.
Personality
Originally, she was insecure about herself because she feared that she would not be able to achieve her form. However, encouragement from her brother and her people put aside those worries.
After achieving her form, she was greatly happy and wasted no time using it.
She was very close to her brother Kataru and they would spend most of their time together. She was later devastated to witness his supposed death and sought to avenge him. However, she was happy to see that he survived and shared a warm embrace with him.
Having lost her people and being alone for decades, Akita became vengeful and sought after the men responsible. She was determined to get her revenge and even threatened Lloyd should he interfere.
Despite this, Akita is shown to very loyal to her friends. Especially when she sticks with Lloyd for the entire journey to the Castle of Ice. Even though their goals differ, Akita might have had empathy for Lloyd when she asked him what he will do after saving Zane. And when Lloyd was frozen in place during the confrontation with Zane, she desperately tries to save him.
She is also hopeful as she believes that someone will stand up against the Ice Emperor one day and was pleased she was right. Also, when her brother comforted her of Lloyd's departure, she remained confident of seeing Lloyd again, just not for a very long time.
Relationships
"Kataru!"
— Akita, after reuniting with her brother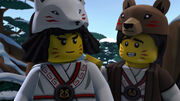 Kataru is Akita's older twin brother.
The pair are very close, as they often played together in the village. Kataru was supportive of her, as he revealed that he wanted to spend time with her after they chose a form and assured her after Vex visited. When they both achieved their forms, the siblings were elated and acted on their promise to play before they decided to head home.
After Vex and the Ice Emperor attacked, Akita warned her brother to not attack but he didn't heed her warning, and was seemingly frozen along with the other villagers. Having witnessed this, Akita swore revenge on Vex and his master for taking her brother from her.
She was unaware her brother was not gone, but instead a prisoner by her enemy.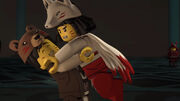 In "Awakenings," Akita and her brother were reunited and she was happy to see him before he happily hugged her. The siblings reconnected and Kataru comforted her upon Lloyd leaving.
"Take care of yourself."
"You too."
— Lloyd and Akita
Akita meets Lloyd after defending him from the Frost Wolves that attacked him, then saves Lloyd again from an avalanche that he created to defeat the Blizzard Samurai, she in her wolf form, decides to help him find the Titan Mech, during the search he tells her about his father and his former love interest, Harumi, and then names her as "Red."
After finding out that she is a Formling, Lloyd was angry at her supposed deception after Akita said she didn't know if Lloyd could be trusted. She was also annoyed at Lloyd telling her of his life story, while he didn't know she would understand everything he said about his father and Harumi. They reconciled when Lloyd advises her not to run with her broken leg, and Akita told him why she's after the Ice Emperor and Vex.
Even though they had different goals, Akita might've had empathy for Lloyd when she asks him what he'll do after saving Zane.
After the two were defeated by Boreal, the Ice Dragon flew off with Lloyd, much to her horror.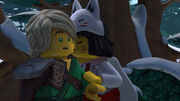 In "Awakenings," they almost come into conflict when she learns the Ice Emperor is really the friend he's been searching for. Despite that, they remain protective of each other as Lloyd saved her from attacks and she voiced worry for him until she was frozen. After Zane regained his memory and liberated the realm, she and her people were freed from the ice and the threat of Vex and the Ice Emperor is done.
As the ninja returned home, Akita and Lloyd were about to part ways and the latter tries to come up with the best way to say goodbye. However, she seizes the moment to kiss him on his cheek, to say goodbye and told him to take care of himself. After he left her world, she was saddened by Lloyd's departure, before her brother comforts her in parting ways with him, but she is confident that she will see Lloyd again.
"I have heard of the Formlings. Vex told me your people are warmongers, cruel, and barbaric."
"And you believed him."
— Zane and Akita about the Formlings and Vex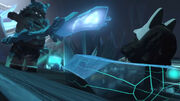 Akita, at first, gained a great hatred for him when he was the Ice Emperor after he attacked her village and left her people frozen, excluding her brother, who was taken to his castle as a prize and prisoner.
Akita swore revenge on him, telling Lloyd that she will accompany him but only to get justice on the Emperor. During her confrontation with him, she learned that Vex lied about the way of the Formlings to get them attacked.
When she found out from Lloyd that Zane was the Ice Emperor, she didn't hesitate to try and kill him, only to be frozen.
Upon regaining his memories and destroying his scepter, Zane released her and the Formlings. He and Akita may have put their differences aside. It's likely that she understood by then that Zane is not to blame since it was Vex's fault that he froze her village.[2]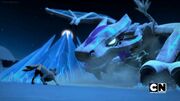 As seen in "The Last of the Formlings," the Ice dragon was responsible for freezing her village. Akita was nearly attacked by the beast but Kataru intervened in the battle, resulting in his loss.
During "My Enemy, My Friend," Akita encountered the dragon again and warned Lloyd about it. She helped Lloyd fight Boreal off but the dragon defeated them and flew off with Lloyd, to Akita's horror.
"I walked out of the village and never looked back. I will not return again, until Vex and his master, the Ice Emperor, are brought to justice."
— Akita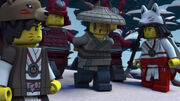 Vex was one of her main enemies.
It was shown in the flashback of "The Last of the Formlings," that she first met the Ice General when he appeared at her Choosing. She was stunned to hear the man that she heard rumors about. Akita watched as he threatened the Formlings for their loyalty or else he'd destroy them. His visit also caused her to wonder over ending up formless like him, should she fail. Akita gained a great hatred for him after he attacked her village and left her people frozen, excluding her brother.
Akita swore revenge on him, telling Lloyd that she will accompany him but only to get justice on Vex and the Ice Emperor.
After the defeat of the Ice Emperor, Akita was present when Vex's punishment of exile is carried out.
Family

Allies

Enemies
Appearances
Sets
Etymology
Her name Akita originates from a Japanese breed of dogs, which is also a prefecture in Japan. Coincidentally, wolves and Akita dogs are genetically very similar. Her nickname Red is based on the red stripes on her face.
Behind the scenes
Her appearance, in both human and wolf form, resembles the character Amaterasu, in the video game Ōkami. It's unknown if this is intentional or not.
It is quite possible she is based on Ninjago's frequent use of Asian mythology and Akita's unique attributes that she and her kind are based on Yōkai, as there are many Yōkai who shapeshift into animals with unusual traits.

A similar example is the Kitsune, a nine-tailed fox and shapeshifter, similar to Akita being a three-tailed wolf.

As it is shown on her concept art, Akita was originally called Kitsune.
Trivia
Gallery
Minifigures
Promotional media
Design variants
References