The Attack from Prime Empire is a final battle where Unagami and the NPCs were unleashed to Ninjago City while Jay attempts to help Unagami by reuniting him with Milton Dyer.
History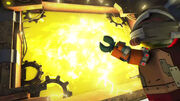 With the help of The Mechanic, Unagami was able to cross into the real world via the Manifestation Gate. The ninja (except Zane) entered Prime Empire to stop Unagami, but Jay was the last ninja standing.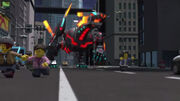 When the Mechanic opens the Manifestation Gate, the Empire Dragon enters Ninjago City with the Red Visors and Whack Rats, even though Okino, for example, also leaves the game. Unagami then seeks Milton Dyer in anger and destroys the city. Jay devises a plan to stop him and has to get Unagami to the top of Borg Tower. There, Unagami meets Milton Dyer.
Aftermath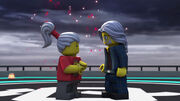 Milton Dyer explains Unagami his reasons for leaving him, resulting in Unagami's transformation into a child as well as the release of all trapped gamers and some NPCs from Prime Empire. Later, Unagami and Milton Dyer made Prime Empire to be safe for everyone.
Trivia
This is the third confirmed time that someone else defeated the main villain, in this case because he is being reformed by Milton Dyer.
Community content is available under
CC-BY-SA
unless otherwise noted.