"Imagine all that is good, baked until it's warm and moist, then add a sweet sugary frosting. That's cake."
— Cole, excitedly describing cake to Faith in The Weakest Link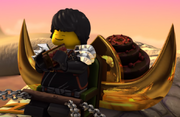 Cake is a baked sweet dessert usually made of flour, sugar, milk, and eggs. It is considered a delicacy in Ninjago and is especially loved, perhaps most in all of the island, by the Earth Ninja, Cole.
Notes
Cake being Cole's favorite food was a running gag in "Double Trouble." It has since then become a core part of his character.
For a time, it ceased to be Cole's favorite food when he gave it up prior to the events of Season 8, saying that his "body is a temple," wanting to become more responsible in Master Wu's absence.

After his extended time away from real food while stranded in the Realm of Oni and Dragons, Cole took back his denouncement of cake, and gained a new found appreciation of it.
Gallery
Community content is available under
CC-BY-SA
unless otherwise noted.