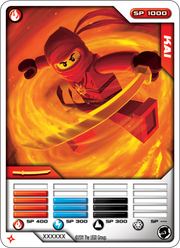 Cards are used in the Ninjago: Spinjitzu Spinners game. Players use these cards to give their characters an advantage in battle.
There are eighty-seven 2011 cards, consisting of seventeen Character Cards, seven special edition Cards, and sixty-five Battle Cards. These can be found in Spinner sets and other specified sets. There are two primary types of cards: Character Cards and Battle-Cards.
There are currently one hundred and twenty-eight 2012 cards. There are twenty-five character cards, three special edition cards, and one hundred battle cards.
Type of Cards
Battle Cards can be split into the following subsections:
Build Cards

These cards let you build parts on the spinner, such as bricks, weapons, shields, and blades. Once a player wins, the parts are removed.
Confuse Cards
These cards hinder an opponent, such as making their character unbalanced or negating one of their card effects. The effect ends when a player wins.
Force Cards

These cards are often used during the battle. They can take effect on the card user and/or the opponent.
Control Cards

These cards change the outcome of an end of a battle. Most control cards prevent the card user from losing a weapon.
Trap Cards

These metal cards are laid down or stood up with bricks on the battlefield. Most trap cards make an opponent lose if they touch a trap card, but some can make an opponent discard their cards.
Golden Cards

These metal cards can only be played if the character is holding a golden weapon during battle. Some Golden Cards have identical effects to non-Golden Cards, but the Golden versions require less SP.
Power Cards
These cards require a certain amount of all SP power in all four elements (for example: one card could require 100 SP of each element while another requires 200 SP of each element). These cards have a green serpentine border.
Boost Cards

These cards add SP to the character's elemental powers until a player wins. Another card must be played right after a boost card is played.
Scroll Cards

These cards force both players to participate in a challenge, usually involving careful aim of a spinner. If the player of the card wins the challenge, they can reclaim one of their lost weapons.
Crown Cards

Similar to Golden Cards, Crown Cards are powerful, but burdened with a restriction; they can only be played if the player's spinner has a crown on it. These cards are kept face-up and can be used throughout the whole game (with the exception of Double Stars); but if the crown is removed, all face-up crown cards are discarded.
List of Cards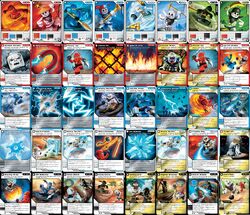 Character Cards
2011
2012
Battle Cards
2011
2012
Special Edition Cards
These cards came in special promotional sets. They were either holographic or had a special ability not found in standard cards.
2012 special edition cards
Sets with Cards
Community content is available under
CC-BY-SA
unless otherwise noted.