Wiki Targeted (Entertainment)
Play Sound
"
This is our new maximum-security wing. We spared no expense, I assure you."
"Very wise."
"Yep. The entire wing was built for one purpose...to hold the rottenest egg of all.
"
Cell one is the most heavily protected wing in Kryptarium Prison, specifically built to hold the most rottenest egg of all. like Lord Garmadon after the loss of his powers and defeat at Lloyd's hands. During the Oni's invasion, Garmadon convinces Lloyd to set him free, claiming the ninja will be unable to defeat the Oni without him, leaving the cell vacant.
Months later, following Aspheera's defeat, she is imprisoned for her crimes and placed in cell one. She receives a visit from Wu, where she reveals she'd banished Zane to the Never-Realm, taunting the "treacherous deceiver" with his student's fate.
History
Shortly after Lloyd defeated Garmadon, he was placed in cell one in order to prevent him from escaping.
Noble shows Lloyd to Garmadon's wing, stating it was built just for him. After unlocking the entrance, he runs off, leaving Lloyd to confront Garmadon by himself. When he reminds Garmadon that he had requested to see Lloyd, Garmadon claimed that it was unusual. When Lloyd threatened to leave, Garmadon remembered and told him that the Bringers of Doom were coming and that although he didn't care, he would rather not be destroyed along with Lloyd. He said that he had decided to help the ninja defeat them and that he was the only one powerful enough to do so. Lloyd refuses his offer and angrily storms off, but Garmadon assured him that he will come back.
After failing to stop the Oni, the ninja return and free Garmadon, fearing he is the only way to defeat the Oni.
After the defeat of the Pyro Vipers and Zane's presumed death, Aspheera was placed in cell one and was later visited by Wu, to whom she remarked that this is just like their last encounter. Wu, disgusted by her actions, told her that Zane had no part in this, and questioned if she was satisfied with her deed. However, Aspheera says that she only wanted revenge on him by trapping him, making suffer the way she did and that Zane was actually banished to the Never-Realm. Once Wu left in horror, Aspheera taunted him while laughing hysterically, asking what he would do now.
Appearances
Trivia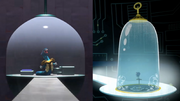 Gallery