"That's not what happened at all!"

This article is about something not canon to either the storyline of the TV show, Ninjago, or The LEGO Movie franchise.
"Chair Up Chen"
Season 4, Episode Mini 3
Air date
July, 25th, 2015
Written by
Dan & Kevin Hageman
Directed by
Sanne Dirckinck-Holmfeld
Episode guide
Previous
"Chair Play Chen"
Next
"Chairful What You Wish For"
Chair Up Chen is the third short based around Master Chen and his throne, taking place sometime during or before the fourth season of LEGO Ninjago: Masters of Spinjitzu.
Plot
Chen sits on his throne with Clouse next to him. Chen complains about being bored, and pushes two buttons to reveal a mobile and bubbles. He pushes another to spin the chair, but it gets out of control. He stops it, but has a boxing glove punch him and was slammed on the floor. He accidentally presses another button and the throne sprouts bat wings. He then flew out a window and tells Clouse to help him down.
Cast
Transcript
For the transcript of this episode, click here.
Trivia
The title's name is a pun on "cheer up."
Episode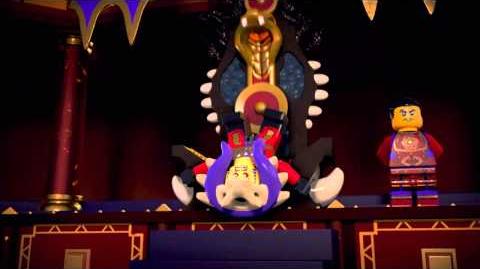 Community content is available under
CC-BY-SA
unless otherwise noted.