Wiki Targeted (Entertainment)
Play Sound
"
Lloyd, wait! If you get on that boat, you may never return.
"
Chen's ferry was a large paddle steamer primarily used to transport goods from the noodle factory on Chen's Island to Chen's Noodle House in New Ninjago City. It was briefly used by Clouse to transport the contestants of the Tournament of Elements to the island. The ferry would continue its normal routes to Ninjago, transporting noodle trucks back and forth in the process, though in the midst of the Tournament Nya and Dareth sneaked onto the ferry using the D.B. Express, which was disguised as a noodle truck. 
At the end of the Tournament, the Elemental Masters fought against Chen's followers and gained control of the island, at which point they started destroying anything that would allow the cultists to escape. In doing so, Bolobo extended vines from the ocean floor to submerge and destroy the ferry. 
History
When Chen and Clouse were exiled for their crimes during the Serpentine Wars, they were placed on the ferry to be transported to a secluded Island.
The ferry arrives around midnight at the New Ninjago City docks to retrieve the Elemental Masters. Clouse steps out onto the dock and welcomes the contestants aboard. The ferry soon leaves and by early morning, it is in sight of Chen's Island.
The ferry arrives at the docks of Chen's Island and the Elemental Masters disembark. By the start of the Tournament, the ferry had left the docks, presumably returning to Ninjago or to where it is kept when not in service.
During the night of the fourth day of the Tournament, Eyezor and a few other thugs used the ferry to transport the noodle trucks back to the mainland for delivery to the Noodle House. The delivery went without incident, and by the morning of the fifth day, the ferry was in sight of the Island once again, though with two stowaways on-board, on the D.B. Express, disguised as a noodle truck.
After the Elemental Masters took control of Chen's Island, they began destroying all means of transportation to prevent the Anacondrai warriors from escaping. As a result, Jay commanded Bolobo to sink the ferry using his vines.
Appearance
The ferry is comprised of two floors, the lower one being fairly open to house the noodle trucks. It is propelled using a large red paddle-wheel at the stern which is driven by a steam engine on the second floor, as well as a small sail at the top of the ferry.
Appearances
Trivia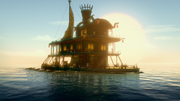 Gallery