This article is primarily about Chima's appearances within Ninjago. For more information on the realm, visit the article on Legends of Chima Wiki.
This template is being added to the following article because some or most of the images added here are not up to Ninjago Wiki standards.
You can help the Wiki by adding higher quality images to "Chima."
This template can be removed once higher quality images have been added.
For further help and advice, please visit the image policy to see what quality images the wiki expects.
Chima is one of the Sixteen Realms. It was briefly visited by Morro and Lloyd during their fight for the Realm Crystal.
History
At an unknown point in time, Chima came into existence alongside the rest of the Sixteen Realms.
While Morro and Lloyd traversed dimensions during their battle for the Realm Crystal, they landed atop Chima's Spiral Mountain where Laval, Cragger, and their friends were sitting. Laval inquired what they were doing there, but Morro ushered them away to another realm before the two could reply.
While trying to reach the Ninja in the Never-Realm, Wu and P.I.X.A.L. open a portal to Chima, unleashing a group of Beavers on them. They return to their home realm after P.I.X.A.L distracts them with a broken broom they want to fix.
Geography
Chima is a massive, floating island hovering above an even larger world. Mostly comprised of jungles, swamps, and a few deserts, Chima is a generally warm and tropical place, with ice and snow being considered a phenomenon due to the warm climate.
In the middle of Chima is a floating mountain known as Mount Cavora, which is the source of Chi, liquid energy that can be harnessed for a near-infinite amount of different uses. In the skies is the Mother Sun, a mysterious being whose actions led to the creation of the land. Located near a lake is a stone known as the Forever Rock, a former hiding place for one of the Fire Harnesses and above an entrance to one of the other Sixteen Realms.[1]
Appearances
Video Games
Trivia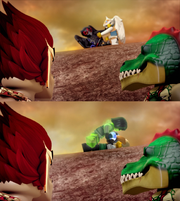 Gallery
References
Community content is available under
CC-BY-SA
unless otherwise noted.