"Just in time for another Choosing. Such a brutal, savage tradition. And what will you do with these innocent children, if their animal form does not come to them? Will you reject them, as you did me?"
— Vex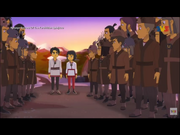 The Choosing Ceremony is a ceremony in which Formlings leave their home to find their animal form.
History
After the ceremony in their village in which the chief paints markings on their face, they head out into the wilderness to obtain their form in silence. Once they have found the spirit that will give them their form, they must chase it to obtain it. After they find their form, they go back to the village to celebrate. Only the pure of heart are able to find their form. This ceremony could take days or weeks.
Community content is available under
CC-BY-SA
unless otherwise noted.