Jurassic World: Dominion Dominates Fandom Wikis - The Loop
Play Sound
"My father wasn't just a fan of Fritz Donnegan. He was Fritz Donnegan!"
Cliff Gordon was an actor who played Fritz Donnegan, a fictional outer space hero in films and comic books in the Starfarer franchise. He was the late husband of the previous Elemental Master of Lightning and the biological father of Jay.
Shortly after his death, Jay learned of his heritage after making a wish with a djinn named Nadakhan.
History
At some point, Cliff Gordon began his career as an actor. Prior to the battle against the Time Twins, Cliff married the Elemental Master of Lightning and the two planned to go on a honeymoon.[2] At some point before or after this, he got the role of Fritz Donnegan of the Starfarer franchise. He starred in a romance film as well.[3] At another point, he authored a book, Cliff Gordon's Handbook to Wooing Women.
Decades later, Cliff and the Master of Lightning would have a son named Jay. However, Cliff's womanizing nature got in the way of having a family,[4] and his wife to leave their son,[5] along with a key to Cliff's mansion, in the care of Ed and Edna Walker.[6]
To remember his son he never knew,[7] Cliff kept up with Jay's later life as a ninja, somehow acquiring his old ZX suit or a replica of it and collecting many pictures of Jay, but he chose not to introduce himself to his son.[6]
As "Fritz Donnegan," Cliff remained a well-known figure for several years, with one of his films repeatedly being featured at Chan's Theater by the time Jay was a teenager.[8][9]
At some point, Cliff died of unknown causes,[1][6] most likely from failing health.[10] After his son used his final wish with Nadakhan to erase the events of the alternate timeline, Cliff was temporarily "resurrected". However, his death played out the same way, as it had nothing to do with the events involving Jay.[10][11][12]
Legacy
Jay grew up believing Ed and Edna were his birth parents, while he idolized Cliff as a celebrity, having been introduced to the Starfarer franchise by Lloyd and growing to admire Fritz Donnegan as his favorite movie character.[13][14] Jay and Nya would often watch Cliff's romance film before Jay knew Cliff was his father.[15][16]
"Fritz Donnegan" also inspired Lloyd, who used a version of the famous "Fear?" quote before he gave up his childhood to defeat the Grundle.[17]
Jay was excited when the ninja went to outer space because it reminded him of his hero's Starfarer adventures, and Jay pretended to be Fritz Donnegan when fighting the Nindroids with a blaster outside the rocket.[13]
Eventually, Jay learned of his origins after making a wish with Nadakhan, and Ed and Edna gave Jay the key and address to Cliff's estate. Jay was astonished with his father's villa,[6] in which he and the other ninja briefly resided in an alternate timeline.[18]
Jay took advice from Cliff Gordon's Handbook to Wooing Women, only for it to make situations worse for him, as it convinced him to hide the truth from Nya and the others.[6][18]
Because these events were undone, Jay is still waiting to receive his inheritance.[19]
Cliff's legacy continued after his death, his film remaining a staple of at least one Ninjago City movie theater.[20]
Jay's abandonment ultimately helped him to relate to and reason with Unagami, ending the attack by Unagami and reuniting Unagami with his creator, Milton Dyer.[21]
Appearances
Sets
Behind the scenes
Trivia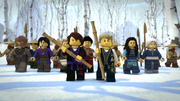 Gallery
References