These are the relationships of Cyrus Borg.
Family
"P.I.X.A.L., remember this: you belong to no one. If you want to be with Zane, then you should be with him."
— Cyrus Borg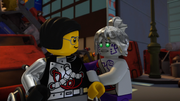 P.I.X.A.L. is Cyrus Borg's creation/daughter.
At an unknown point of time, P.I.X.A.L. was created by Borg to be the latter's personal assistant.
In "The Curse of the Golden Master," when P.I.X.A.L. told Cyrus about her having feelings for Zane and that she belonged to him, Cyrus disagreed with her but said that she belonged to no one and that she was free to make her own decisions.
Friends
"I used to think technology would be the answer to all of our problems. But then I saw technology invent new problems. Devastating problems. And then a Nindroid named Zane saved us all. He was the perfect balance between us and technology. He taught us that life should be a balance. Technology can improve our lives, but so can people. And if we focus on one at the expense of the other, that's when the balance is off. Our city will find its way again, but this time with Zane as our compass. With that, I give to you the Titanium Ninja."
— Cyrus Borg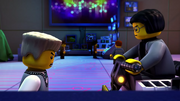 Zane is one of Cyrus Borg's friends and one of the Ninja.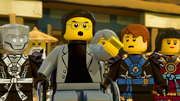 Enemies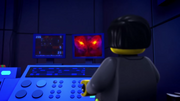 The Time Twins are Cyrus Borg's abductor.
Community content is available under
CC-BY-SA
unless otherwise noted.