The Energy Dragon (also known as the Green Dragon or the Elemental Energy Dragon) is a metaphysical creature that Lloyd is able to summon at will after he faced his fears.
History
Tournament of Elements
When the remaining Elemental Masters of the Tournament of Elements and Garmadon were thrown out of Chen's blimp, there are not enough parachutes for all of the people, so Lloyd conjured his Energy Dragon so that his father can have the last parachute at the end and land safely a little time later.
During the search for Skylor, Lloyd activated his dragon, a feat that amazed Griffin Turner and Karlof (who wished he could so as well).
Later on, Chen and his army leave to conquer Ninjago as Lloyd volunteered to go alone as he the only one with a dragon. However, he learns that is not the case when both Zane and Kai appear on dragons telling everyone to overcome their fears to summon a dragon.
With this good news, Lloyd jumps out of Chen's Palace and activates his dragon with the rest of the Elemental Masters. Lloyd carries his father on his dragon to return to Ninjago to stop Chen and his army from conquering it.
Lloyd chases after a noodle truck on his Energy Dragon, but he becomes too afraid of what actions have caused for many innocent people, making his dragon disappear, and causing him to fall to the ground.
Possession
Lloyd used his Elemental Dragon to help the other Ninja capture a Fangfish that had been terrorizing a coastal village. He later used him to ride back to Wu's new tea shop, Steep Wisdom.
Appearances
Trivia
Gallery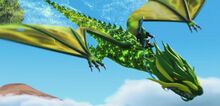 Community content is available under
CC-BY-SA
unless otherwise noted.