"That's not what happened at all!"

This article is about something not canon to either the storyline of the TV show or The LEGO Movie franchise.
The Fang Of Poison is a weapon used by the Serpentine, specifically Lasha and Mezmo. It has two versions, but both appear as medium-length staffs with black chains of similar length attached to one end, and a small, curved spike on the end of the chain. According to their descriptions, they can be used as flails and clubs, depending on which part of the weapon hits the opponent.
Lasha's version is called the Chained Fang of Poison, with a small green crystal at the base of the chain and a white spike at the tip. Apparently, the crystal is a vial that can be filled with venom to enhance the weapon's capabilities (Lasha, naturally, prefers Venomari Venom).
Mezmo's version is identified as the New Fang of Poison, which lacks the venom capsule and features an orange spike instead of white. It does not come with the round green piece on the top. It apparently specializes in delivering piercing blows to create "cavities" in its opponents.
Oddly enough, one of the weapons packaged with 2255 Sensei Wu appears to be a golden New Fang of Poison. Additionally, Fang-Suei's spinner set comes with a weapon similar to the Fang of Poison, with the black staff being replaced by a smaller brown handle.
LEGO.com Description
Chained Fang Of Poison
With the vial full of venom of your choice, this fang can strike, slice and severely smash up its target. (Lasha recommends Venomari poison.) Used by Lasha.
New Fang Of Poison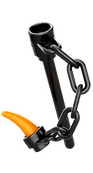 Wouldn't you love to hear what the Tooth Fairy would say about this? The only cavities this fang will ever see are the ones it causes. No need to rinse.
Appearances
Sets
Chained Fang Of Poison
New Fang Of Poison
Community content is available under
CC-BY-SA
unless otherwise noted.