Wiki Targeted (Entertainment)
Play Sound
"Fire Maker"
Season 11, Episode 17
Air date
August 24, 2019 (Malaysia)
September 16, 2019 (Australia)
October 4, 2019 (Canada)
December 14, 2019 (US)
Written by
Bragi Schut
Directed by
Daniel Ife
Episode guide
Previous
"The Never-Realm"
Next
"An Unlikely Ally"
Fire Maker is the seventeenth episode of the eleventh season of Ninjago and the 115th episode overall. It aired in Malaysia on August 24, 2019, on September 16, 2019, in Australia, and on October 4, 2019 in Canada. It also aired in the United States on December 14, 2019, paired up with "The Never-Realm." However, in most other countries, it was paired up with "An Unlikely Ally."
Synopsis
The Ice Emperor learns of the ninja's arrival and sends his Blizzard Samurai warriors to destroy them and the villagers who sheltered them.[1]
Extended: As the ninja prepare to head off in search of the Ice Emperor's castle where Zane is imprisoned, two Ice Fishers arrive with dire news: the Ice Emperor has dispatched his Blizzard Samurai to destroy the village! The ninja must put off their quest in order to help the villagers defend themselves, and their precious ""hearth-fire,"" which must be protected at all costs, since it cannot be relit. Despite their efforts, in the attack, the hearth-fire is extinguished. Devastated the Ice Fishers prepare to meet an icy fate. But Kai refuses to give in to despair and musters some small vestige of his former elemental powers to reignite the hearth-fire, earning him the nick-name, ""Fire-Maker.""[2]
Plot
Uthaug and Boma are walking down a path in the forest carrying fish and discussing how to pronounce "Ninjago" when they hear the sound of someone marching their way. After realizing that it's the Blizzard Samurai, they quickly head back to warn everyone.
Back at the Great Lake, Lloyd and Sorla discuss the path to get to the Castle of Ice. She talks about having to be very quiet when you progress through Mala-Wojira or else Wojira will "strike you down."
When Lloyd heads outside, Kai and Jay try on new snowshoes that will help them walk through the snow. Meanwhile, Nya finds that she can't get a signal on the Titan Mech despite having been able to do so before. While they are talking, Uthaug and Boma arrive at the Great Lake to warn the other Ice Fishers. Sorla commands them to head inside so that they can regroup.
Inside their base, the Elders throw ideas around on what they should do, but disagreements arise. Sorla then states that they can't leave the Hearth Fire and they must protect it. When Kai asks if they can light another Fire, he is met by criticism from the Ice Fishers. Sorla explains that they can't light another Fire since the weather is too cold. After stating that they can't transport the Fire, Sorla makes it clear that they will protect it; the ninja agree that they will help.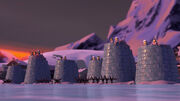 When the Ice Fishers and the ninja head out to prepare, Kai stays behind with Sorla. He explains that if he had his powers, he could solve the problem, but without them, he can't help. Sorla tells him that Elemental Powers can't be stolen, and it will come back.
The Ice Fishers and the ninja quickly prepare and by sunrise, they are able to create a fortress and arm the civilians with weapons. 
At night, the first barrage of attacks begins when a plethora of arrows come streaking at the Ice Fishers. They are able to dodge it, but see Blizzard Samurai at their footsteps. The Blizzard Sword Masters and Archers end up attacking but many shatter into ice when hit. When Lloyd is fighting one of the Blizzard Warriors, it changes face, but not for very long. During the battle, Kai was hit by Grimfax, and he attempts to destroy him, but Lloyd defends his fellow ninja before Cole uses his Earth Punch to send Grimfax flying. However, Grimfax doesn't give up and pursues the house with the Sacred Fire and ultimately takes it out. The Blizzard Samurai then retreat after accomplishing their goal.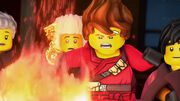 The Ice Fishers sit around the empty Hearth Fire, freezing in the winter night. Seeing this, Kai continues to blame himself for not having his Elemental Powers. He tries once more to light a fire, and this time, although shown having slight difficulty doing so, is able to create the Fire. The Ice Fishers chant "Fire Maker" due to his success and their wonder.
Meanwhile, General Vex is watching this unfold using his crystal and is upset about the fire being restored.
Cast
Transcript
For the transcript of the episode, click here.
Locations featured
Trivia
Continuity
Videos
Gallery
For the gallery of the episode, click here.
References