Jurassic World: Dominion Dominates Fandom Wikis - The Loop
Play Sound
Not to be confused with the Glacier Barrens.
The Frozen Wasteland[1][2] is a frozen land and the resting place of the Shurikens of Ice, which were guarded by the Ice Dragon. The Frozen Wasteland is completely covered in ice and snow, as its name implies.
History
After getting the Scythe of Quakes, the Ninja set out to find the next three Golden Weapons. Traveling by boat, the Ninja set off to retrieve the next weapon, the Shurikens of Ice.
When they reach the Frozen Wasteland, Zane attempts to grab the Shurikens, freezing him in a block of ice in the process. The Guardian of the weapon, the Ice Dragon, is awakened, and the other three Ninja lift Zane up and ride atop him out of the Frozen Wastelands to the boat. They hit a pillar on the way out, breaking Zane out of the ice.
Seeking the Obsidian Sais, the Ninja traveled to the Ice Temple within the Frozen Wasteland to obtain them. Though they succeeded in finding the weapons, they fell under attack from an Ice Serpent but were able to defeat it.
LEGO.com description
Hiding place of one of the Four Golden Weapons of Spinjitzu, the Shurikens of Ice. Bordered by an icy sea, the Frozen Wasteland is an inhospitable place inhabited only by the hardiest of creatures. It is partially forested, but much of it is ice-covered mountains, treacherous cliffs, and dangerous crevasses. A fierce Ice Dragon guarded the shurikens within the Ice Temple. The ninja finally succeeded in retrieving the weapon and Zane tamed the Ice Dragon so that he could ride it.[3]
Animal Life
Vegetation
Areas
Appearances
Video games
Trivia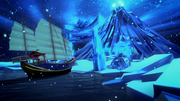 Gallery
In other media
References