Jurassic World: Dominion Dominates Fandom Wikis - The Loop
Play Sound
Gleck (nicknamed Mr. Sparkles by Vania) is a member of the Geckles that wears a necklace that used to belong to Lilly. He was the only Geckle that wanted to make amends with the Munce.
History
Background
In the past, Gleck befriended Vania, who named him Mr. Sparkles.[1]
Gleck sneaks up on Cole in his bed, thinking that he is Lilly, which scares the Earth Ninja. Cole then tackles Gleck and Lilly's necklace pops out. However, Gleck takes it back from Cole and runs away.
Kai and Zane spot the necklace around Gleck's neck and deduce that he is the creature Cole saw in his bedroom. After that, they ask how he got the necklace, Gleck tells Kai and Zane that Lilly gave it to him years ago, and they asked to have the necklace, he gives it to them after they promise to give the necklace back. After Kai and Zane realize who "Gilly" really was, Gleck becomes happy as he thought that they knew her. When he asks her where she is, they sadly tell Gleck that Lilly died, which makes Gleck very sad.
While the other Geckles are watching the slug race, Gleck pulls Kai and Zane aside. He tells them that he doesn't think the Munce stole their blade, and that he was only looking for "Gilly" when he entered Cole's room before. At the request of Zane, he shows them his locket, and they realize that Gilly and Lilly are the same person. Gleck is excited that they know who Lilly is, but is saddened to hear that she had passed away a while ago.
Later, he demonstrates swinging across the lava to safety for the ninja.
Gleck and the others take refuge in the Geckle Strong-Cave.
Along with all the other Geckles and Munce, Gleck is put to work in the mines. Later, when everyone is freed, he joins the fight against Vangelis and the Re-Awakened.
Led by Murtessa, the Geckles and Munce fight off the Re-Awakened. Later, Gleck is in the audience when Vania makes a speech about equality and is crowned queen.
Relationships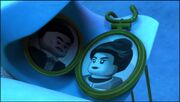 After Lilly saved the Geckles and Munce from Grief-Bringer, she gave Gleck a necklace which has pictures of her and Lou. For years Gleck wished that Lilly would come back. And when Kai and Zane told him that Lilly had died, it made him very sad.
Appearances
Sets
Trivia
Gallery
Minifigures
Promotional media
References