Cobra Kai Season 4 - The Loop
Play Sound
When I saw Wojira, when I saw her full power, I began to think, perhaps, I had made some poor career choices.
Glutinous is a Merlopian scientist who worked for Kalmaar.
History
Background
At one point in his life, Glutinous lost his legs in an unknown incident and became a scientist who began working for Kalmaar and began making replicas of the Storm Amulet.
After being tasked to reawaken Wojira by Kalmaar, Glutinous spent his time at the Temple of Wojira to create replicas of the Storm Amulet while trying to study on the Wave Amulet. Then he connected electricity cables to Wojira, and tried to awake her up by the replica charged by the jellyfish's electricity, but to no avail. Instead, it caused the marine life and one of Wojira's elements, Water, to go out of control.[1]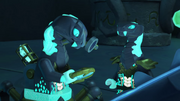 When a Maaray Guard handed out a broken Storm Amulet replica to Glutinous, he realized that the replica burned out like the ones before it. After Kalmaar began to get tired of Glutinous' failed attempts, Glutinous tried to explained to him that he needed more time. Kalmaar, however, yelled at him to try again, so he did, but failed when the Storm Amulet replica broke.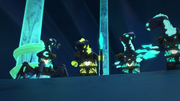 When Nya and Maya broke free, they enter the room Glutinous and two Maaray Guards were in. Glutinous looks around, he sees a tower and climbs up it. After Nya and Maya leave, Gripe tells Glutinous to release the Ripper Sharks so they can go after Nya and Maya.
After Kalmaar gets mad at Gripe for releasing the Ripper Sharks, Glutinous tells Kalmaar that the Hydro Bounty was repaired. When Kalmaar doesn't hurt Glutinous, he soon realized that the ninja are smarter than he thought.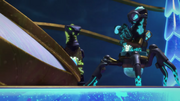 Glutinous swims up to the palace and speaks to Kalmaar and Gripe, saying that the storm belt is the location of the Island of the Keepers where the Storm Amulet might be. Gripe points out that there is nothing in the storm belt but Glutinous says that they must go and Kalmaar agrees. They then travel to the island.
Glutinous was in the Temple of Wojira, when Kalmaar returned with the Storm Amulet. The scientist was concerned and implored Kalmaar to run more tests, but his patience was thin and the two inserted the amulet onto the serpent's head. Not long after witnessing this did Glutinous began to realise that this was a terrible mistake.
Glutinous then swam all the way to Ninjago City and emerged in Ninjago Harbor, where he frightened several people, but learned where he could find the ninja. Then he turned himself into the Ninjago City Police.
Later, when the ninja came to the Ninjago City Police Station, Glutinous waited for them in the interrogation room. Then he told them that Kalmaar had reawakened Wojira and that he was coming into Ninjago City. The ninja thanked to him and left with the Police Commissioner. Glutinous then drank his coffee and he liked it, so he also drank the Commissioner's cup.
Personality
Glutinous is a very nervous and frightened creature that has great respect for his master, Kalmaar. His movement is almost always unnatural and often twitches. Kalmaar was aware of his weakness and fear, so he used it to his advantage and constantly insulted him. However, this later paid off, as Glutinous reformed after waking Wojira and decided to help the ninja by going to warn them. He also has an obvious fondness for coffee.
Appearance
Glutinous is, like the Maaray Guards, black in color and has an eel-like body and cyan eyes, teeth, glove, body parts, and neck scales. He also wears a black vest with cyan details and gold armor. He doesn't have a left arm, so he has a gold prosthesis instead. However, his most distinctive feature is his artificial lower limbs, which are in the shape of an octopus and have six legs attached to a circular base. He has a blue lantern on the back of his limbs with a magnifying glass attached to it, which he can place in front of his eye.
Abilities
Appearances
Sets
Behind the scenes
Trivia
Gallery
Minifigures
Promotional media
Translations
Foreign language
Translation
Czech
Glutén (E168)
Glutinus (E177)
German
Glutinous
Russian
Липкий
Ukrainian
Клейкий
References