Jurassic World: Dominion Dominates Fandom Wikis - The Loop
Play Sound
"How are we supposed to stop them? Most of us have lost control of our dragons. Not to mention we're outnumbered ten to one!"
Gravis is the current Elemental Master of Gravity and was a competitor in Master Chen's Tournament of Elements, alongside the other Elemental Masters of his generation. In the second round of the event, Gravis fought against Griffin Turner, who used his element to claim the Jadeblade, beating Gravis. Afterward, he was ridden of his powers and forced to work in Chen's noodle factory. Eventually, Gravis united with the other Elemental Masters to reclaim their elements.
Gravis and the Elemental Masters united against Master Chen, who completed a spell that transformed him and his followers into fake Anacondrai. Consequently, an ancient conflict was renewed, as the new alliance of Elemental Masters fought Chen's army at the Corridor of Elders before Garmadon sacrificed himself in a bid to banish their adversaries to the Cursed Realm.
Months after the war's end, Nadakhan imprisoned Gravis in the Djinn Blade, but after Jay made his final wish, these events were erased and he was freed.
It's unknown where Gravis was during Lord Garmadon's rule, due to his absence in the Resistance.
History
Background
Gravis was born as a descendant of the previous Elemental Master of Gravity. At some point, he unlocked his True Potential.[1]
Gravis was one of those invited to participate in the Tournament of Elements. He accepted and met the other Elemental Masters on the New Ninjago City pier at midnight where they were picked up by Clouse to be taken to Chen's Island. While on the ferry, Gravis meditated while using his powers to make nearby objects float.
After arriving on the island, Gravis met Master Chen and settled into his room in Chen's Palace. When the first round begins, Gravis obtained a Jadeblade by taking the one Cole won from Mr. Pale after he raised it in a moment of triumph. After Gravis gave the blade to Chen, he was advanced to the next round of the tournament. He later cheered when Karlof was shown to have the last Jadeblade and cheered louder after Kai outsmarted Karlof and won.
The next day, Gravis was announced as the second competitor of the first match, where he fought against Griffin Turner to obtain a Jadeblade from a cherry blossom tree. Although both had an even start, Griffin began to annoy Gravis by running around him and using the branches to knock him off balance. In return, Gravis then buried the Master of Speed using the blossoms. He then levitated the Jadeblade towards him, but unfortunately, Griffin grabbed it first, knocking the Master of Gravity out of the tournament. Chen then activated a trapdoor, which Gravis laughed at since he was still levitating, though fell in when Chen pressed a button that somehow dropped a sandbag on him, causing him to fall into a trapdoor. After that, Chen took away Gravis's element using the Staff of Elements and sent him to work at his noodle factory.
After the factory was put on lockdown, Gravis and the other imprisoned masters gather around Zane and Cole as Cole explained their plan to use the sewer pipes to escape. Unfortunately, the plan was foiled thanks to the arrival of Dareth. After they decided to build a Roto Jet to blast their way out, Gravis searched the factory for usable parts.
Gravis helped with building the Roto Jet. After it's completion, he joined the others in subduing the guards and escaping the factory. Later, they broke into a room full of skeletal remains, where they rescue Nya and Garmadon from the Anacondrai serpent by using the Roto Jet to fire at rocks, which fell and crushed the serpent to death. They soon broke into Chen's ceremony room, where they disrupt his spell that would have turned the warriors into Anacondrai, and battle the warriors. When Kai destroyed Chen's staff, Gravis's element returned to him, and he continued to help his allies in defeating Chen's followers. However, Chen and a few henchmen manage to escape. Later, Gravis and Griffin Turner took out Chen's henchmen, now captured, from the palace, taking control of the island.
Gravis and the other elemental fighters continued to guard Chen's followers but had to fight them when they unexpectedly turned into Anacondrai. After the Elemental Masters locked themselves in the palace to protect themselves, Chen and his army use the opportunity to escape, with the intent of conquering Ninjago. When seeing Kai and Zane awaken their Elemental Dragons, Gravis awoke his own Elemental Gravity Dragon and headed after Chen's army with the other fighters to Ninjago.
Gravis used his Gravity Dragon to fly back to Ninjago City, where he watched over the city with the other masters.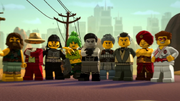 Later, Gravis and the other Masters stand ready to hold off Chen and his forces, who have gathered in twenty noodle trucks. However, the trucks began heading in various directions to presumably attack the villages, Gravis pursued one of them, only to find it empty and realize Chen separated them to invade without hindrance.
Like many others, he lost his dragon because of fear and was left stranded as Chen invaded without a problem.
After receiving a message from Neuro, Gravis met up with the other masters in the Samurai X Cave. There, Gravis questioned how they would be able to stop Chen's army as they no longer were able to control their Elemental Dragons. Eventually, they decided to make their stand against Chen's army in the Corridor of Elders. During the battle in the Corridor, Gravis fought bravely against the fake Anacondrai, and when Chen caused one of the statues to fall on the people of Ninjago, Gravis used his power to move it out of the way, saving many people' lives.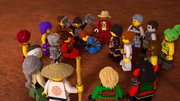 Following the Cultists' banishment to the Cursed Realm by the souls of the released Anacondrai generals, Gravis celebrated with the other masters when victory was achieved. He later promised to help the ninja with any problems they might face in the future.
At some point, Nadakhan imprisoned Gravis in the Djinn Blade with the other Elemental Masters.[2]
Appearance
Gravis has facial hair, including a mustache-goatee. His clothing is somewhat Indian. He wears a large maroon turban with a rusty golden stud on the front of it, a maroon sleeveless robe, and dark brown pants. He accentuates his outfit with brown scarves and dull gray armor. He also has a symbol on his turban and torso which resembles an eight-pointed throwing star.
His minifigure has a more detailed turban without a symbol, without leg printing and with a levitating necklace.
LEGO.com description
What goes up must come down. Well, not in a fight with Gravis. He is a deadly fighter who has the ability to alter gravity. When fighting him, you never know which way is which.[3]
Appearances
Sets
Video games
Trivia
The Trivia on Gravis needs to be organized.
You can help the wiki by organizing the following information chronologically based on how the information applies to the series.
This template can be removed once the section has been organized.
Gravis's torso is a recolored version of Zane's Stone Armor variant from "The Titanium Ninja".
Gravis's belt is taken from the Barbarian from Minifigures Series 11. An altered version also appears on Ash.
Gravis, Bolobo, Jacob, Chamille, and Ash, are the only Elemental Masters who did not return in Season 9.

Unlike Chamille and Bolobo, it is unknown where Gravis and various other Elemental Masters were during Lord Garmadon's rule and the city's takeover.

In Episode 37, Gravis is voiced by Kirby Morrow, who voices two other Elemental Masters in the series, these being Cole and Mr. Pale.

In the two other episodes in which he speaks, Gravis is voiced by Mark Oliver, who voices another Elemental Master, Garmadon.

Gravis is an unlockable character in The LEGO Ninjago Movie Videogame. His blind bag can be found in the level "Ninjago City Downtown."
Gravis is one of nine Elemental Masters that have facial hair.
Gravis bares resemblance to the appearance of a Sikh.

Since he has a turban, this could mean religion exists in Ninjago.

In Minifigure form, his turban (part 18822) is different from the one in the show (part 40235), probably because the original piece is retired.
Gallery
Minifigures
Promotional media
Design variants
In other media
References