"Better, we snuffed out their fire! Without it, they are lost."
— Grimfax to Vex and the Ice Emperor
Grimfax is a high-ranking Blizzard Warrior that leads battles.
History
Grimfax is seen leading the Blizzard Samurai out of the Castle of Ice after being ordered by General Vex to destroy the villagers harboring the Ninja.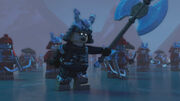 Grimfax leads the Blizzard Samurai to the battle against the Great Lake.
He attacks Kai, but the rest of the Ninja save him. They prompt him to call for surrender, but Grimfax sees the Hearth Fire and is able to take it out before calling for the retreat.
Grimfax and his men return to the castle, with him stepping forward to report their victory. However, Vex is quick to tell him that they actually failed after displaying the fire still remains and how their numbers are lacking. Grimfax is stunned to learn this and tries to explain. The Ice Emperor is displeased at this and starts to freeze Grimfax, while Vex persuades him to carry out a severe punishment. However, Ice Emperor stops midway and tells Grimfax that he will atone for his mistake, much to Grimfax's relief. Following this, the Ice Emperor ordered him and his men out.
Appearances
Trivia
The moment when Grimfax was nearly punished is similar something done to Harumi by Garmadon in "How to Build a Dragon."
He is currently the only member of the Blizzard Samurai who doesn't have a minifigure
Besides Vex, he is one of the few named Blizzard Samurai.
Gallery
Community content is available under
CC-BY-SA
unless otherwise noted.