Jurassic World: Dominion Dominates Fandom Wikis - The Loop
Play Sound
Not be confused with Harumi's adoptive father.
"While we're stuck waiting, why don't you tell us who's really under there?"


The subject of this article has never been given an official title. If one is given, this template can be removed.
An unnamed man was a resident of Ninjago City, the husband of an unnamed woman, and the father of Harumi. He and his wife were killed by the collapse of their apartment complex, which was caused by the Great Devourer during her attack on the city. His and his wife's deaths would have a profound effect on Harumi, who managed to escape before the collapse. Realizing Lord Garmadon was the one who killed the Devourer, Harumi went on to worship and resurrect him, all of which was heavily caused by her parents' fates.
History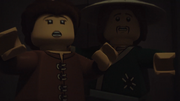 During the Great Devourer's attack on Ninjago City, Harumi and her parents were forced to flee from their collapsing apartment complex. However, there wasn't enough room left in the elevator for the three of them, so Harumi's parents managed to get Harumi into the elevator, much to her distress. As the elevator doors close, the apartment collapsed, killing both of Harumi's parents.[1]
Legacy
Harumi realized Lord Garmadon was responsible for destroying the Devourer, and she grew to idolize him while hating Lloyd and the ninja for unknowingly allowing her parents to be killed.[1]
Harumi was adopted by the Royal Family, she despised them and often looked back at her original life with sorrow.[2]
When Garmadon and Skylor fought for control of the Colossus, Harumi witnessed a boy in the same situation she was in when she was younger. Remembering her parents, she decided to help the family escape. This ultimately lead to Harumi's death when the building collapsed.[3]
At one point, Nya imagined Harumi and her parents living in small village that was attacked by the Skulkin and saved by Nya in an updated Samurai X Mech.[4] Being a daydream, this depiction of Harumi's family may have been inaccurate.[5]
Appearances
Trivia
Gallery
References