Spider-Man: No Way Home Trailer Dropped - The Loop
Play Sound
You may be looking for the promotional concept.
"That's not what happened at all!"


This topic is considered non-canon because video games have never been considered canon.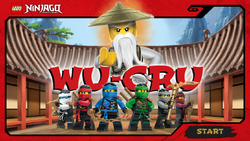 LEGO Ninjago: Wu-Cru is a Ninjago app released in the second half of 2016.
Official Description
Calling all Ninjas, Master Wu needs you.
A Ninja alone is powerful, but a ninja team is unstoppable. Join the fight in this epic RPG as you rescue and team up with Jay, Zane, Nya, Cole and Kai to battle evil and save Ninjago Island. Evil never stops, so join the WU-CRU now! Features:
Storyline
Taking place between the Dark Island Trilogy and "Day of the Departed," Dark Matter crystals have popped up all over Ninjago, contaminating the land. A stranger somehow immune to the effects stumbles upon Master Wu's tea farm, destroying the nearby Dark Matter. As the Ninja have not returned from investigating, Master Wu sends the player to go and revive them. Along the way, the player discovers that the Dark Matter has corrupted the Serpentine tribes, making them more powerful. Once Zane, Cole, Jay, and Kai have been freed, the player makes its way to the Samurai X Cave where Nya has taken shelter. After retrieving Lasha's Bite Cycle, they discover a holo-message from Lloyd who has discovered that Pythor and Fangtom intend to use the Dark Matter to transform into the Great Devourer.[ Transform who? Pythor, Fangtom, or both at the same time? ]
Playable Characters
NPCs
Vehicles
Notable Levels
Tea Farm Surroundings
Mountain of a Million Steps
The Bay
Videos
Gallery
Trivia