Doctor Strange in The Multiverse o Madness - The Loop
Play Sound
"Oh Cole, don't you see? I am proud. I want you to promise me, Cole, that you will always stand up to those who are cruel and unjust. Always."
Lilly (referred to as Gilly by the Geckles and Milly by the Munce) was Lou's wife, Cole's mother, and the previous Elemental Master of Earth.
History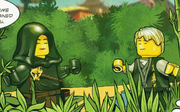 Lilly was the daughter of the Elemental Master of Earth who participated in the Serpentine War.[1] She inherited his powers.
Lilly trained with Master Wu at the Monastery of Spinjitzu, learning Spinjitzu and reaching her True Potential. In addition to protecting civilians, she at one point traveled to the Underworld and at another point encountered a group of Venomari and prevented them from attacking Jamanakai Village.[2] At one point, she discovered that her powers were strongest when she was closer to the earth, and she shared this revelation with Wu.[3]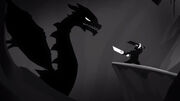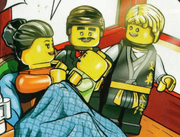 Lilly eventually visited Shintaro Mountain, where she learned the Spinjitzu Burst.[4] and she used this power to destroy Grief-Bringer, a dragon that terrorized the residents of the caverns. She left the mountain, but not before leaving the Blades of Deliverance with the Geckles and Munce[5] and her locket with Gleck.[6]
Eventually, Lilly and Lou married and had a son named Cole, who inherited his mother's powers. Wu was also present when Lilly kept her son lying in her bed.[2]
When Cole was three, Lilly told him the moon was made of green cheese, as she knew that was the explanation that would make the most sense to him at the time.[7]
Lilly and Lou often danced outside on the terrace of their house.[8]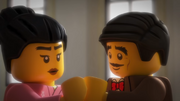 When Cole was a child, Lilly danced in the dance class with her husband Lou while Cole watched them from behind the door.[9]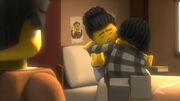 Eventually, Lilly became ill. At one point when Cole and Lou came to see her, Cole told his mother that he didn't want her to be sick anymore, but she told him, "we don't always get what we want". Lilly asked Cole about problems at school and he told her that he got into a fight with a child who hurt the younger ones. Cole said that he would never fight and that he would be good, wanting his mother to be proud of him. Lilly told him that she was already proud and that she wanted him to promise her that he would always fight those who are cruel and unjust. Cole promised her that he would do exactly that.[3]
At some point in Cole's teenage years, Lilly died, resulting in a division between Cole and Lou in their grief.[10]
Legacy
During his first encounter with Wu, Cole mentioned Lilly, saying that she was gone and that his father should be sad or angry but instead spent all his time with his group. Wu told Cole that grief takes many shapes and forms, some singing and dancing and some climbing mountains.[10]
At the time the ninja were searching for Wu, Cole had a dream based on his memories of his parents dancing.[8]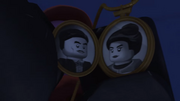 Cole began to learn more about his mother's past when he and the other ninja traveled to Shintaro. On his first night in the palace, Cole caught Gleck sneaking into his room, seeing that the Geckle had a necklace that contained a portrait of his parents.[11]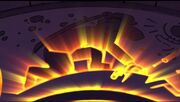 When the ninja were trapped in the Mines of Shintaro, Gliff told the story of the Blades of Deliverance, the Ivory Blade of Deliverance and the Shadow Blade of Deliverance, and how Lilly (called "Gilly" by Gliff and "Milly" by Murt) had defeated Grief-Bringer and left the two blades with the Geckles and Munce respectively.[5]
While Lloyd, Jay, and Nya talked in Munce Home-Cave, Lloyd noticed a picture on the wall depicting Lilly fighting Grief-Bringer.[12]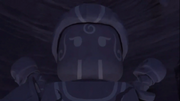 After noticing the necklace Gleck was wearing, Kai and Zane asked to look at it. Gleck stated that it was his most prized possession, given to him by "Gilly" herself. After noticing Lilly in the locket, Kai and Zane correctly deduced that Lilly was the same person as Gilly. Gleck, happy to hear that they know her, asked if they could bring her to the Dungeons to help with the peace treaty. Unfortunately for Gleck, Kai sadly told him about Lilly's passing.[13]
When Cole was getting zapped by the Skull of Hazza D'ur, he remembered his mother, which inspired him to use the Spinjitzu Burst to destroy the Skull.[14]
Relationships
Appearances
Sets
Books
Behind the scenes
Trivia
Gallery
Promotional media
Design variants
In other media
References