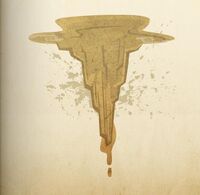 Lime Stones are a type of vegetation found in the Ninjago Sky.
LEGO.com Description
Wildlife:Vegetation
Pack your lunch, because there's little food here!
Made of sour grain filled with skeletons, these bitter caves are constantly changing shape. Pointy Stalactites drip, drip lime from the ceiling creating new Stalagmites rising from the tart cave floor
Community content is available under
CC-BY-SA
unless otherwise noted.