Jurassic World: Dominion Dominates Fandom Wikis - The Loop
Play Sound
"You have recklessly endangered a peace between humans and Serpentine that has existed for millennia. Your foolishness has put me in... a difficult position."
King Mambo V was an ancient Hypnobrai and the Serpentine King during the First Age. He and the First Spinjitzu Master agreed-upon peace between humans and Serpentine, under the terms that neither of the two kinds crossover into each other's land.
A young Serpentine sorceress named Aspheera used the power of Spinjitzu to overthrow him, but she was defeated by Wu and Garmadon using Forbidden Spinjitzu, restoring him to power. He sentenced Aspheera to magical entombment.
History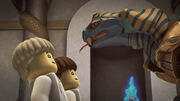 Mambo V was the Serpentine King during the First Age. He ruled over a Serpentine Valley where his subjects would build legendary pyramids. He, like his ancestors, followed the rules of the agreement between the Serpentine and the First Spinjitzu Master that neither species was allowed to enter the territories of the other.
Thousands of years ago, Wu and Garmadon were captured in the Serpentine Valley by the royal guards and were brought to King Mambo V, who was on his throne in his pyramid. Although they were the sons of the First Spinjitzu Master, he chose to imprison them for one night instead of negotiating with their father.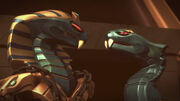 However, a young Serpentine sorceress Aspheera freed them. She learned how to use Spinjitzu from Wu, whom she manipulated, and then tied Mambo V in chains and led him to the balcony of his pyramid, where she showed everyone that she was stronger than him when she threw him to the ground using Spinjitzu.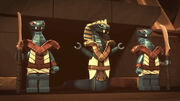 Mambo V was then imprisoned until Wu and Garmadon defeated the new queen, Aspheera. Mambo V then returned to his throne and appeared on the balcony to his subjects, who were rejoicing over his return. In the following hours, he imposed a sentence on Aspheera and decided that she would be magically imprisoned in the pyramid, until such time as her sins are forgotten. After this event, he continued being Serpentine King.
Legacy
Despite the fact that Mambo V lived thousands of years ago, his reign became part of the famous Serpentine history and was recorded in the Serpentine book.[1]
Personality
Mambo V was a wise and righteous king of his time. Instead of fighting humans senselessly, he preferred to continue the agreement that his ancestors made with the First Spinjitzu Master, although he still did not like humans and rejected their presence in his empire. Nevertheless, he was not ruthless, and instead of imprisoning the sons of the First Spinjitzu Master and gaining something for himself by negotiating with their father about the price, he imprisoned them only for one night and then planned to release them. However, he was also relatively cruel to those who deserved it, as he imposed on Aspheera a punishment worse than death for dethroning him. He also seems to like attention and cheering over him, as he looked very pleased when his nation applauded him and enjoyed his return to the throne.

Appearance
Mambo was a humanoid cobra-like creature whose bottom half was a snake's tail while he had arms and hands. He had red eyes that had a ripple pattern in them like the all of the Hypnobrai tribe and his body was covered in metalized dark blue scales. He also had a regal gold and black marking on his forehead while he was wearing a golden nemes with dark blue stripes and with a golden cobra head and an aqua jewel on top. He also wore a unique tan and gold robe with golden shoulder armor that is shaped like a cobra head on each shoulder and a golden belt.
Appearances
Etymology
His name is a reference to the Lou Bega song, "Mambo No. 5."[2] It is also a pun on the black mamba, a venomous snake native to Africa.
Behind the scenes
He wears a nemes, headdress of ancient Egyptian pharaohs.
He is the second Serpentine King voiced by Michael Dobson, the first is Pythor.
Trivia
Gallery
In other media
References