Featured Video
The informative featured video at the top of the article is provided by the host's Featured Video team and not the editors of this wiki. It may not accurately represent the article and contradict info on the wiki itself, so it should not be taken at face value. Info may become outdated over time.
"Long before Sensei Wu ever knew who would be the Green Ninja, I knew it would be you. And I knew you would eventually have to fight your father. I dropped you off at the Boarding School so I could go learn everything I could about the prophecy, in hope of one day preventing the Final Battle. Of good and evil. All this time, son, I've been trying to save you and your father."
Misako Montgomery Garmadon[1] is an archaeologist and a close ally of the ninja. She is Lloyd's mother, Garmadon's wife, as well as Wu's sister-in-law, and the First Spinjitzu Master's daughter-in-law. Following the return of the Stone Army, Misako reunited with Wu and met the ninja, assisting them in their quest to battle the Overlord and Garmadon. After the Overlord possessed Garmadon, Lloyd fought against him in the Final Battle, seemingly destroying him while also purifying Garmadon of his evil. Misako and Lloyd then departed with Garmadon with the hope of rebuilding their lives.
Misako and Garmadon later settled down in a monastery. As of when the Nindroid battles had begun, Misako remained at the monastery while Garmadon and Lloyd set off to face the Overlord. After Zane's supposed demise, the ninja and Garmadon set off to a mysterious island to find their lost friend, which went unknown to Misako and Wu. Misako attempted to establish contact with them until the ninja returned along with the Elemental Masters. The new alliance fought Master Chen's army at the Corridor of Elders. In a bid to defeat them, Garmadon had himself banished to the Cursed Realm.
Due to Garmadon's banishment, Morro escaped the Cursed Realm and possessed Lloyd, setting off on a quest to claim the Realm Crystal. Misako accompanied Wu and the ninja to save her son, and they eventually succeeded in doing so.
Sometime later, the ninja were framed for crimes they didn't commit, leading Misako to be captured by the police. However, a deceptive djinn named Nadakhan trapped her in the Sword of Souls. Misako was later freed, and due to Jay's final wish, recent events were undone and she was never captured. Shortly after, Misako journeyed to the Dark Island to investigate reports of missing fishermen and ended up uncovering a diabolical plot by Clouse.
On the Day of the Departed, Pythor set off to have revenge on Lloyd, and he surprised attacked Misako and her son while they were commemorating Garmadon at the Corridor of Elders. Lloyd then fought against Pythor before he decided to leave for his own sake.
After moving into the Temple of Airjitzu and Wu being attacked by Acronix, Misako personally nursed him before he was captured and was soon lost in time. She later went on a discreet search for him, not telling anyone, not even her son before finding Wu as a baby, later being captured by the Sons of Garmadon. She reunited with Lloyd and witnessed them attempt to bring Garmadon back and were slightly successful.
Following the supposed demise of the original ninja and Wu, Misako became part of the Resistance before she was arrested during the raid on their base. Upon hearing the return of the original ninja and Wu, this inspired her and others to break out and help them restrain the Colossus.
After Faith and Firstbourne crashed down onto the Monastery of Spinjitzu's grounds, Misako helped nurse Faith back to health.
Not long after the Prime Empire incident, Misako forced a gloomy Wu to accompany the ninja to Shintaro.
She went on an expedition to the uncharted island with Clutch Powers and Wu, unfortunately, she went missing with them. However, she was rescued by the ninja and returned to the monastery.
She later helped Wu, Ray, Kai, and Cole stop Kalmaar from acquiring the Storm Amulet so he could not reawake Wojira. However, this was unsuccessful and Wojira was reawakened, although Nya defeated her at the cost of merging with the ocean and leaving the ninja. Misako attended her memorial.
History
Main article: Misako/History
Appearance
Misako is an older woman, presumably in her 60s.[2] She has long gray hair with one light stripe, which she wears in a french braid. She always wears silver round glasses on her face. Being an archaeologist, she wears a light sand-brown shirt with buttons and pockets. She has a green scarf around her neck and a brown belt around her waist. She has sand-green pants.
Her pants pockets have been missing since Season 5. The silver streak in her hair disappeared in Season 7, but it returned in Season 8 much lighter and more prominent. Since Season 13, her first appearance after the change from WILFilm ApS to WildBrain animation, her french braid is tied with a green ribbon and the silver streak appears longer, lighter, and better defined. Additionally, her mouth is smaller, more akin to that of Mystake (as of Season 8) and Sorla. She also has a slightly smaller face, so she looks plumper.
As a young woman, she had dark brown hair in the same hairstyle. Her glasses were missing during the Serpentine War, but she wore them around the time Wu taught her Spinjitzu.[3]
LEGO.com descriptions
Season 2 (2017 Museum gallery)
Misako is Garmadon's wife, Lloyd's mother, and the love of Master Wu's life. She was tricked into marrying Garmadon and regrets the years she missed with Wu. Intelligent and accomplished, Misako worked as an archaeologist at the NINJAGO® Museum of History and is also a Spinjitzu master and an expert on NINJAGO mythology. Although she is an academic, she is also a lover of adventure and has never been content to sit behind a desk. Misako knew Lloyd would become the Green Ninja someday, and so enrolled him at Darkly's School for Bad Boys while she researched the prophecy of the Green Ninja. After reuniting with Lloyd, she became involved in many of the ninja's adventures.
Misako fled as her husband Lord Garmadon turned to evil and was forced to leave Lloyd behind. She threw herself into her archaeological research, hoping to uncover a way for her son and husband to avoid their inevitable final battle. She is overjoyed to be reunited with Lloyd and to see the young man he's become today. Can she save both son and husband, or will she rekindle an old romance with Master Wu?
Season 3 (2017 Museum gallery)
Misako is happy to have Garmadon back and is focused on rebuilding her relationship with him. But her joy is counterbalanced by her grief over Wu turning evil, due to the machinations of the Digital Overlord. After so many years of heartbreak over the fate of Garmadon, it is almost too much to bear to think she might now lose Wu.
Season 4 (2017 Museum gallery)
Misako's discovery that she was tricked into choosing Garmadon over Wu all those years ago is a devastating one. Now she is working at rebuilding the relationship she once shared with Wu. Although she bitterly regrets all the time lost that she could have spent with Wu, she still honors Garmadon's sacrifice when her husband gives his life to save the world.
Season 5 (2017 Museum gallery)
Misako was thinking about retirement when she bought the tea farm with Master Wu. Now any thoughts of a few customers and tranquil evenings on the plantation are gone. Instead, Misako finds herself busy helping Nya unlock her true potential as Morro threatens all the realms.
Season 6 (2017 Museum gallery)
Lloyd's mother, Misako, is mentoring Nya and encouraging her to chart her own course, rather than letting others determine who she is. Nya has to deal with the loss of her new mentor when Misako is arrested trying to save Lloyd in the City of Stiix and is ambushed by Nadakhan.
Season 7 (2017 Museum gallery)
Misako is devastated to watch her beloved Wu rapidly deteriorate, but while trying everything in her power to heal him, she honors his request not to tell the ninja about his condition. Eventually, Misako realizes that in order for Lloyd to complete his growth as a leader, he and the others must know the truth about their ailing master!
Relationships
Main article: Misako's relationships
Appearances
Behind the scenes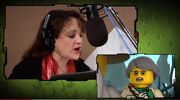 Misako's movie counterpart had the most dramatic changes out of the movie redesigns; appearing to be much younger, with orange hair and the absence of glasses and being oblivious to her son's identity as the Green Ninja, in contrast to her being the first person in the show to know of Lloyd's destiny of being the Green Ninja.

She is the only redesigned character in the movie that did not retain this design in the show. This is probably because her young design would not fit into the story of the show where she was young during the Serpentine War.

Misako's torso design appears to be based on that of the Zookeeper from Minifigures Series 5.
Her name is pronounced MA-sa-ko in the Korean version.
Her torso is a recolored version of Edna's torso, which she used in "The Royal Blacksmiths" and later in seasons 3 and 4.
Her face print is currently used in LEGO City.
Trivia
After having been a recurring character throughout the series since the second season, Misako was finally featured in a set in 2015—70751 Temple of Airjitzu. However, her Minifigure version lacks the silver streak in her hair and the pocket print on her trousers in comparison to her appearance in the show.

As of the fifth season, her trousers lack pocket printing in the show and the black space on her hips is replaced with a continuation of her torso printing.

Misako is one of only three known people who know Spinjitzu but lack Elemental Powers. The other two are Doubloon and Aspheera.
In the shot of past Misako in "Spellbound", she is in Jamanakai Village.[4] This could mean she lived in the village when she was younger, though it may simply mean she was there at one point during the Serpentine War, so Garmadon wanted to protect her.

When asked if Misako fought in the Serpentine War, Tommy Andreasen said "[she] may have been involved in some civil resistance, but the EMs were in charge."[5]

Misako used to be a member of the Explorer's Club, but her membership was revoked because she was presumed lost on the Island of the Keepers. After she returned, Cecil Putnam started a reactivation process, which apparently takes years.

Previously, Tommy Andreasen had stated that Misako may have been a part but quit because of their rules and old-fashioned ways.[6]

This is partly reflected in "Riddle of the Sphinx," when Misako can't believe she was a member of the club.

Since her introduction in Season 2, she has appeared in all seasons except for Season 11 and Season 12.
Tommy Andreasen once stated that her maiden name was most likely "Montgomery". [7] This was eventually confirmed in "Uncharted" which also revealed that just like Lloyd, she had taken Garmadon's name as a last name.

This was previously alluded to in "Dread on Arrival" when Cole called her "Mrs. G."

Misako appeared in two of Wu's fevered dreams in The Hands of Time. In "Scavengers," Wu and Misako were walking in the park when Krux and Acronix attacked, and Wu yelled to Misako to "stay by my side," but she turned to dust. In "Pause and Effect," Misako appeared from a Vermillion egg and asked why Wu failed her because he should have told her he loved her before she went to Garmadon.
She is said to be a keen artist, and likes to paint in her free time.[9] This is also referred to in 70751 Temple of Airjitzu.
Lines around her eyes indicate a life spend smiling and squinting at ancient artifacts.[9]
Because of the requirements to be a member in the Explorer's Club, Misako has had over 10,000 hours of certified exploring.
Gallery
Main article: Misako/Gallery
References