Featured Video
The informative featured video at the top of the article is provided by the host's Featured Video team and not the editors of this wiki. It may not accurately represent the article and contradict info on the wiki itself, so it should not be taken at face value. Info may become outdated over time.
"He won't rest until he finds him, because he doesn't need rest. He's built to be a cut above the rest."
Mr. E was one of the generals of the Sons of Garmadon. His origins are unknown, although it was discovered that he was a Nindroid. Mr. E would at some point cross paths with Harumi and joined her gang, looking up to Lord Garmadon as a supreme being whom they sought to resurrect. Mr. E and the Sons of Garmadon would battle the ninja while seeking the three Oni Masks, mystical relics that were required to revive Lord Garmadon. He started a rivalry with Zane and nearly killed him after a brutal fight. Eventually, Mr. E and the Sons of Garmadon succeed in resurrecting Lord Garmadon, who conquered Ninjago and reigned as its emperor.
Mr. E served Lord Garmadon, ensuring that his control over the city remained strong. After Garmadon tasked him with finding his son, Lloyd, Mr. E set off to capture him but failed, due to the intervention of the Elemental Masters, leading to Lloyd's escape. Garmadon's generals later met with him, and he ripped Mr. E apart to emphasize that failure would not be tolerated.
History
Mr. E led a group of the Sons of Garmadon to Borg Tower in order to steal the Oni Mask of Vengeance, the first of the three Oni Masks. The heist was successful, however, a S.O.G member, Luke Cunningham, activated the alarm, and Lloyd came to stop them. Mr. E was forced to abandon his team and flee the scene. He then returned to his bike, with Lloyd chasing him in his Ninja Nightcrawler. Mr. E found a way to jump over him and land on a boat. which he used to escape.
Mr. E led an attack on the Royal Palace assisted by Ultra Violet and several other Sons of Garmadon members, with the goal of stealing the Oni Mask of Deception. While the other bikers fended off the Royal Guards, Mr. E drove his bike through the palace to the location of the Oni Mask of Deception's display case. However, he was cornered by Cole, Kai, Nya, and Jay.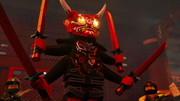 Anticipating this, Mr. E reveals the Oni Mask of Vengeance to them before putting it on, causing him to gain two additional arms and swords. Combating the ninja, he is successful in deflecting their attacks and powers, even utilizing Jay's Lightning to knock back the ninja. Smashing the display case, Mr. E claims the Oni Mask of Deception. However, Kai summons a fireball and shoots it at him, destroying the Oni Mask of Deception, much to Mr. E's anger.
Fortunately for Mr. E, the mask that was destroyed was simply a fake; the real one would be recovered by Ultra Violet after she chases down Lloyd and Harumi.
Mr. E was at the karaoke bar with Ultra Violet. Soon they discovered that Cole had secretly snuck in, disguised as one of their members.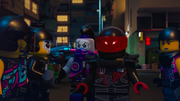 Ultra Violet abducted him, and Mr. E tried to escape. However, Jay electrified his motorcycle, making it temporarily useless. The ninja kept chasing Mr. E, who had now put on the Oni Mask of Vengeance again. He managed to defeat all the ninja except Lloyd. Lloyd and Mr. E fought on a rooftop with Lloyd defeating him, only to be saved by Snake Jaguar. This action made Mr. E trust Snake Jaguar and introduce him to the "Big Man."
Mr. E and Ultra Violet took Snake Jaguar to their headquarters so he can meet Killow. Later, he joined Snake Jaguar's initiation race, but as soon as all the other bikers were knocked out following the discovery of Snake Jaguar's true identity as Zane, Killow commanded him to take care of Snake Jaguar himself, due to him being the one that brought him to the team. Mr. E battles with Zane on their bikes, but as they approached a cliff and Mr. E clung onto Zane's bike, Zane desperately asks Mr. E who he was. Mr. E ignores him, and with no other choice, Zane bails from his bike, with Mr. E following suit. The two bikes consequently fall down the cliff. As Zane gets up, he watches in horror as Mr. E attaches his right arm after it broke off, revealing that he, too, is like Zane—a Nindroid.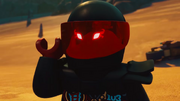 A fight between Mr. E and Zane begins, with Zane constantly asking who was the Quiet One. Despite Zane's best efforts, Mr. E was able to badly damage Zane, before kicking him off the cliff near their bikes, with Mr. E jumping down. As Zane powers down, Mr. E opens a compartment in Zane, placing in it a mechanical spider. He sends an encrypted message to the Quiet One, saying "the trap has been set" before leaving with his bike, leaving the deactivated Zane behind in the desert, where he would later be discovered by his friends.
Mr. E, along with Ultra Violet and Killow, leads a large Sons of Garmadon biker force through Primeval's Eye in search of the crashed Destiny's Bounty. After fighting through Samurai X, revealed to be P.I.X.A.L., the Sons of Garmadon confront the ninja after their discovery of Harumi being the Quiet One.
With the ninja captured, the Sons of Garmadon take control of the Destiny's Bounty, with Mr. E acting as the navigator. Mr. E soon locates Lloyd and Harumi at the Oni Temple, to which Killow sets a course to.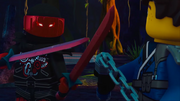 After Harumi secures the Oni Mask of Hatred, she, along with Killow and a few other bikers are confronted by the ninja, who managed to escape from their captors with the help of Toddler Wu. However, reinforcements soon arrived for the Sons of Garmadon in the form of Ultra Violet, Mr. E, and several other bikers. Mr. E attempts to put on the Oni Mask of Vengeance in the midst of the standoff but is stopped by Zane. After Lloyd returns, the Sons of Garmadon surround the ninja. However, the beast Harumi and Lloyd encountered earlier returns, forcing the Sons of Garmadon and ninja onto a small island. As the beast surfaces and lands on the island, the Sons of Garmadon and the ninja briefly work together to fight the beast. In the midst of this, Mr. E puts on the Oni Mask of Vengeance to help combat the beast. Harumi soon calls for a retreat, with Mr. E and Killow joining Harumi and the Sons of Garmadon in re-capturing the Destiny's Bounty and flying away with it, along with a captured Lloyd.
Mr. E, along with the other Sons of Garmadon members, would help protect the Temple of Resurrection while Harumi performed the resurrection ritual to revive Garmadon. However, the ninja managed to stop the ritual prior to its completion. Soon afterward, the Ninjago police force arrived and arrested the Sons of Garmadon, where they would be sent to Kryptarium Prison.
Mr. E, along with the rest of the Sons of Garmadon, were freed from Kryptarium Prison by Harumi and the newly-resurrected Lord Garmadon. He would later help run the CCTV in the prison to broadcast to everyone in Ninjago, where the citizens of Ninjago would watch Lloyd fight his father.
Mr. E, along with the other Sons of Garmadon, surround a village in their way to Ninjago City. There, he witnesses Garmadon create a massive rock beast in order to show his true strength to a defending villager. He then participated in Lord Garmadon's attack on Ninjago City.
Mr. E was dispatched by Harumi to capture Lloyd on Lord Garmadon's wishes. Doing so, he and Killow led a Sons of Garmadon battalion to scour Ninjago City. When he entered an abandoned building and found P.I.X.A.L.'s Samurai Mech, he signaled to Killow to move closer and to encircle the area to box them in. He then drove through the boxed-in alleyway, and after failing to discover the hidden ninja, moved on to continue investigating. Mr. E quickly returned later with the Mask of Vengeance, and with additional support from Killow and other Sons of Garmadon members, surrounded Lloyd, Nya, P.I.X.A.L., Misako, and Dareth. Just as all hope was lost and Mr. E prepared to attack Dareth, he was promptly slammed by Karlof's metal glove.
When the other Elemental Masters arrived, Mr. E, Killow, and the Sons of Garmadon were forced to retreat as the masters evacuated Lloyd, Nya, P.I.X.A.L., Misako, and Dareth.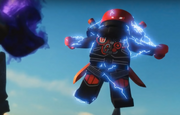 Mr. E and the other Sons of Garmadon generals were summoned to Garmadon's base at the top of Borg Tower, where Garmadon asked who was responsible for failing to capture his son. Mr. E steps forward and despite Harumi's attempts to explain that they could not have predicted the arrival of the other Elemental Masters. Garmadon uses his Destruction to tear Mr. E's body apart, destroying him, much to the horror of the others. Garmadon tells the remaining generals that their fallen comrade's fate was to serve as an example of not failing him.
Official descriptions
LEGO.com description
Mr. E is a member of the Sons of Garmadon, known for the fact that he hides his face behind a mask and never speaks. A master swordsman, he is Zane's newest nemesis.[1]
Mr. E is a mysterious warrior who never speaks. This silent soldier is actually a Nindroid. However, despite his muted approach to leadership, he is not the "Quiet One".
Relationships
Mr. E was a member of the group and thus, was loyal to his fellow companions. He would lead them on certain missions, such as stealing the Oni Mask of Vengeance or trying to hunt down the Resistance. However, he can be criticized by some one his members for his actions, like with Killow when he brought an undercover Zane with him. This can also lead to the point of him being destroyed completely, such as when Garmadon tore him apart for failing to capture his son, Lloyd. As this happened, Harumi, Killow and Ultra Violet watched in fear at his demise.
Because the ninja oppose the Sons of Garmadon, Mr. E saw them as enemies. He fought several of the ninja on many occasions; however, not one ninja have been successfully able to defeat him, or without assistance.
Out of all of the ninja, however, Mr. E gained a mutual hatred for Zane. The latter went undercover as "Snake Jaguar", saving Mr. E from Lloyd and was brought to meet Killow. When it was revealed to the group that Snake Jaguar was Zane, Mr. E was blamed by Killow for the situation and was ordered to get rid of Zane. He attempted to try and kill Zane, but he jumped off his bike in time. Zane then discovered that Mr. E was a Nindroid, and as the two fought, Zane constantly questioned Mr. E if he was the Quiet One. Regardless, Mr. E managed to almost killed Zane in the end, and implanted a bug in him. After this, Zane also gained a personal hatred towards him too.
Appearances
Sets
Video games
Behind the scenes
Trivia
The Trivia on Mr. E needs to be organized.
You can help the wiki by organizing the following information chronologically based on how the information applies to the series.
This template can be removed once the section has been organized.
Video
Gallery
Minifigures
Promotional media
Design variants
References