Jurassic World: Dominion Dominates Fandom Wikis - The Loop
Play Sound
"You Geckles value family, like Munce. You work hard, like Munce. You honor Milly, like Munce. Is possible... we are not so different?"
Queen Murtessa is the queen of the Munce tribe. She developed feelings for Jay and saw Nya as her rival for his affection.
History
Murt walks into the throne room and Murtessa is surprised that he escaped the Skull Sorcerer. She listens Murt's story of their escape and thanks the ninja, especially Jay, for saving her people. She then turns to Nya and thinks she some sort of servant to Jay. Nya corrects her, saying she's Jay's Yang. Murtessa then tells her guards to give them everything they wanted, even to Nya, who she calls a "Yang Servant".
Murtessa requests Jay to join her at the dinner table but is annoyed when Nya and Lloyd also enter the room. Once again, she only takes interest in Jay and asks him about Spinjitzu and Elemental Powers. Jay then uses Lightning and makes the crystals glow blue.
Murtessa is amazed at this and asks if he is betrothed, but Nya cuts in saying she and Jay are already a pair. Murtessa gets upset and challenges Nya to a duel, which would determine who would get Jay's love. At first, Nya is shocked, so Murtessa taunts Nya, calling her a "child". Nya then accepts the duel.
When the duel begins, it looked as if Murtessa would win as Nya struggled to stay on her feet while being bulldozed by Murtessa's forward roll. However, the momentum shifted when Nya performed Spinjitzu and knocked out Murtessa. The Munce realized Murtessa lost and chanted "Queen Mya".
While the Munce are fighting, Murtessa tells Nya to show strength in order to get their attention. She and the Munce then follow Nya to the truce point; however, they stare down the Geckles.
When Grief-Bringer arrives, the Geckles and Munces flee.
Murtessa and the rest of the Munce flee to the Geckle Strong-Cave where she helps cuts the chain to the gate. After securing the cave, she begins to argue with Gulch and the two tribes don't get along. When compromising with the Skull Sorcerer, she and Gulch argue on who spoke first.
While the Awakened Warriors are trying to destroy the door, Nya spots rocks covering something, so she thinks it's an exit. She then gets everyone to work together to remove the rocks. When they turn out to not be an exit. Gulch apologizes for putting everyone in this situation. Murtessa then apologizes for being harsh to the Geckles and realizes there is some common ground between the two tribes. They then establish trust by Kai and Nya declaring peace with the opposing tribe.
The ninja turn themselves in order to allow the Munce and Geckles to be free, but the Skull Sorcerer double-crosses and captures everyone.
Murtessa is seen working along with the rest of the Munce and Geckles. A Re-Awakened Warrior sees Murtessa getting tired and is about to whip her, but Korgran beats up the skeleton and Fungus gives her a key to liberate herself.
While Cole is fighting the Skull Sorcerer. Fungus and Korgran give the signal to free themselves. Murtessa uses her rolling ability to knock over some skeletons.
Murtessa continues to fight alongside the Upply, Geckles, Munce and the ninja. After Cole unlocks the Spinjitzu Burst, they all watch Vangelis being apprehended by his former guards.
Murtessa watches Vania become the Queen of Shintaro and promises equality for all. She then hugs Jay just before the ninja are about to leave.
Murtessa was at the palace of Shintaro, with Gulch, using Shintaro wings.
Abilities
Relationships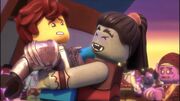 When Murtessa met Jay, she developed feelings for him, earlier on, she challenged Nya to a ritual combat so that Jay could become king. Even though she loses, she still cares a lot for Jay as she says goodbye to Jay when he and the ninja return home.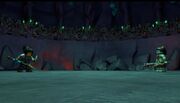 At first, Murtessa thought Nya was a servant for Jay, but discovering the fact she was actually Jay's Yang, Murtessa began to see her as a rival and eventually challenged her to a ritual combat so that if she won, she would keep Jay with her forever. However, she lost while Nya became the new Munce Queen. After that, Murtessa no longer saw Nya as an enemy.
Appearances
Trivia
Gallery
Promotional media
Design variants
The images on Murtessa need to be organized.
You can help the Wiki by adding images to the appropriate section on "Murtessa."
This template can be removed once images have been organized.