For other uses, see Nindroids (disambiguation).
This template has been added to the following article because some or most of the images added here are not up to Ninjago Wiki standards.
You can help the Wiki by adding higher quality images to "Nindroids."
This template can be removed once higher quality images have been added.
For further help and advice, please visit the image policy to see what quality images the wiki expects.
"I'm still working out the details, but Zane's a Nindroid, a walking computer."
The Nindroids (short for ninja-droids)[1] are highly advanced built androids based on Dr. Julien's design of the first Nindroid, Zane, the White Ninja.
History
Believed to be an orphan, Zane lived a mysterious life until discovered by Master Wu and taken in as a student. Despite feeling overwhelmed with his new friends, the Ice Ninja still felt disappointed with his unknown past. Up upon till a special discovery with a mysterious Falcon, Zane and the ninja met many important missions; though they did not expect one adventure to lead them to a hidden workshop, only to witness the fact that Zane was not only special—he was a Nindroid, built to protect others.
After the Golden Ninja defeated the Overlord, the ninja became teachers with the exception of Lloyd. Soon, Nya reported a trip to Borg Industries, whereas Zane met P.I.X.A.L., an android based on Zane. When the Overlord virus turned P.I.X.A.L. aggressive, she used her previous scan of Zane and upgraded his schematics to mane a more up-to-date robot army.
Upon facing the Nindroids surrounding P.I.X.A.L., Zane encountered General Cryptor, a brand-new Nindroid based on his own design while also upgraded with superior abilities.
While thinking of a means to use Jay's last wish against Nadakhan, both he and Nya unexpectedly encounter Echo Zane, an inferior copy of Zane built from scrap parts but with the same programming to protect others. Although this Nindroid is prone to falling apart, he proves his worth during the raid on Lighthouse Island.
After discovering Snake Jaguar is Zane in disguise, Mr. E and Zane fought each other using their motorcycles. Zane is still in the belief that Mr. E is the Quiet One, but instead, it turns out Mr. E is a Nindroid just like Zane.
Weapons and abilities
Breathing apparatus - Zane and P.I.X.A.L. can breathe normally underwater without the need of a scuba tank.[3][4]
Event visualization - Zane can visualize any event that has happened, even events for which he was not present.[5]

Selective memory - Zane can upgrade the visualization making everyone to resemble their current appearances.[6]

Falcon Vision - Zane is able to see through the eyes of the Falcon.
Superhuman durability - Zane is able to survive harsh environments, such as Beohernie's stomach, more easily.[11]
Holographic projection - Zane is able to create both 2D[12] and 3D blue holographic projections from his eyes.[13][14]
Illumination - Zane is able to glow in order for him and his friends to see in the dark.[2]
Prediction - Zane and P.I.X.A.L. can survey their environments and predict the likelihood of a possible outcome[15][16] or tell whether or not there are any better options.[17]
Scanning - P.I.X.A.L. is able to scan a given area[18] as well as other androids,[10] and Zane is able to scan an area,[19] vehicle,[20] or human[21] for various signs.
Shurikens - Zane has a hidden shuriken drill in his arm[22] and was at one point[23] able to produce explosive shurikens.[24] Echo Zane is also able to produce shurikens.[25]
Zane's holographic cloak - Zane is able to change his appearance.
See also: Zane#Abilities & Weapons.
Weaknesses
Appearances
Trivia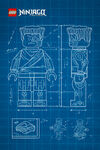 Gallery
Members
Minifigures
Traits and abilities
The images on Nindroids need to be organized.
You can help the Wiki by adding images to the appropriate section on "Nindroids."
This template can be removed once images have been organized.
Videos
References