"I was bitten by a snake."

This article is about a subject that is relevant to the storyline of both the LEGO Ninjago TV series and the LEGO Movie franchise. Information may be more directed toward one continuity than the other.
Ninjargon
is the main writing system used by the people of
Ninjago
.
[1]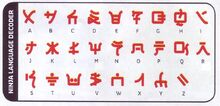 Appearance
Ninjargon can be seen numerous times in the show and LEGO sets. Letters of this language are unique and not used in any real language, and there seem to be different variations, similar to how Chinese can be written in two different ways.
Originally, Ninjargon symbols resembled the visual style of Chinese characters but did not mean anything on their own. Letters from the font "Fusaka" were also used on some Ninja uniforms, starting with the Elemental robes.
For The LEGO Ninjago Movie, the language was redesigned into a translatable cipher that was then used in the TV series from Season 8 onward.
Trivia
ninjagolanguagetranslator.net is a free Ninjargon translator created on the occasion of the release of The LEGO Ninjago Movie.
English is also an alphabet in Ninjago, as seen on Ed & Edna's Scrap N Junk sign, for example.
Several times in the show and LEGO sets, words are seemingly spelled incorrectly.

This was a mistake corrected in the second wave of Legacy sets where the word is correctly spelled "MASTER" on Kai and Lloyd's suits.
Another example of this is that the Skull Sorcerer has Dead Irse inscriptions on the body in the show, while the inscriptions in the sets are written correctly, Dead Rise.

In the non-canon novel, Way of the Departed, written by Tommy Andreasen, the language was referred to as "Ninjargan."
Real Chinese characters are also often used in the show and LEGO sets.
Gallery
External Links
References
Community content is available under
CC-BY-SA
unless otherwise noted.