Featured Video
The informative featured video at the top of the article is provided by the host's Featured Video team and not the editors of this wiki. It may not accurately represent the article and contradict info on the wiki itself, so it should not be taken at face value. Info may become outdated over time.
"We are gathered here today to honor the memory of Nya. Inventor, Samurai X, ninja, Master of Water, and our dearest friend. Her courage and strength have saved us time and time again. And although we- we were unable to save her, we will always remember her. Wherever she is now, she is in our hearts."
— Wu delivering Nya's eulogy in "The Turn of the Tide"
Nya is the embodiment of the Endless Sea, the last known Elemental Master and Ninja of Water, Kai's sister, Jay's girlfriend and yang, and Ray and Maya's daughter. She was named after Nyad, the original Elemental Master of Water. Upon meeting Wu, Nya and Kai joined him in his quest to protect Ninjago. As her brother trained to be a ninja, Nya grew tired of being left out from the team and created the identity of Samurai X. During this time, Jay began to start a relationship with Nya. She helped fight the Serpentine and later the Stone Army, who corrupted her using Dark Matter. After the Overlord's defeat, Nya was purified but faced new problems when a love triangle formed between her, Jay, and Cole.
After Zane's apparent demise, Nya and Dareth journeyed to Chen's Island, joining the ninja to save the restored Zane and fight Chen's army. Following the conflict, Wu trained Nya to harness her element of water. Though her training troubled her at first, she unlocked her True Potential and destroyed the Preeminent. Consequently, Nadakhan freed his crew of pirates and wreaked havoc on Ninjago. After being captured by Nadakhan, Nya was accidentally poisoned and died, but she survived due to Jay's final wish as it undid recent events. On the Day of the Departed, Nya and Kai battled and defeated Chen, who was accidentally revived by Cole.
Nya and the ninja went on to battle the Time Twins and their army of Vermillion. After being faced with a new Samurai X, Nya and Kai discovered that their mother and father were still alive. The family reunited, and Nya and her brother helped Wu fight and defeat the Time Twins—though Wu was lost to time.
The ninja then faced the Sons of Garmadon, a criminal syndicate led by Princess Harumi that sought to resurrect Lord Garmadon.
After Wu and the original ninja were seemingly killed, she, Lloyd, Misako, P.I.X.A.L., Dareth, and most of the Elemental Masters were left to resist Garmadon's oppressive reign over Ninjago. When the Wu and the others returned, they reunited and defeated the Colossus while Lloyd faced and defeated his father again. Peace returned briefly until the Oni invaded and Nya along with her friends had to evacuate the city. She experienced guilt for unintentionally leaving Cole behind, but got the idea to forge the Golden Weapons to defeat the threat. At the monastery, she and her friends fought the Oni along with Wu, Garmadon, and Cole who returned to help. During the climax of the fight, Nya accepted Jay's Yin-Yang promise before they all used the Tornado of Creation to vanquish the enemy.
Months later, Nya and her friends fight against Aspheera and her Pyro Vipers after accidentally releasing them from their tomb. After Zane is banished by Aspheera's sorcery, she and the remaining ninja send themselves to the Never-Realm to rescue him. Nya struggles when she is unable to use her powers, due to the realm's extreme winter freezing all water, but is mentored by an elder of the village they've taken shelter in, Sorla, to learn how to control ice, before the village is frozen by Boreal. Nya uses her new skill to briefly knock out the Ice Dragon and discovers that Zane is the Ice Emperor. After Kai uses his restored Fire elemental power to finish the dragon off, they reunite with Lloyd and Zane, whom Vex inadvertently managed to return to normal, and use Traveler's Tea to head back to their home realm.
Sometime later, Nya and the other ninja enter the virtual world of Prime Empire, when the legendary arcade game resurfaces and hundreds of gamers are zapped into it. Nya and Jay participate in a dance competition to gain points to participate in a race called the Speedway Five-Billion and win. She, Jay, and Lloyd survive the Speedway and keep moving on without Kai or Cole as they both got cubed. Lloyd is eventually cubed in a fight with Avatar Harumi, and Nya and Jay move on to the Temple of Madness. They make it through, however Sushimi, barely alive, he throws a malice at Nya, killing her. Jay moves on alone and eventually convinces Unagami to free everyone previously trapped in the game, including Nya. They embrace upon seeing each other.
After the Prime Empire events, Nya, Wu, and and the other ninja get an invitation to visit Shintaro. When the ninja notice that Cole and Vania are gone, they go underground but get captured by Vangelis' skeleton army. Shortly after, Nya, Lloyd, and Jay escape with Murt to encounter Murtessa, the queen of the Munce. She and Nya fight in the Munce arena to claim Jay, and Nya wins and becomes the new queen. At the battle of the Dungeons of Shintaro, Nya makes the Geckles and Munce work together to defeat the Grief-Bringer.
Nya traveled to The Island of the Keepers to save Misako and Wu. There, the ninja discovered the Storm Amulet and the existence of Wojira.
Shortly after returning from The Island of the Keepers, Nya's powers started to fail due to Kalmaar's attempts to reawaken Wojira. Nya, her mother, and the ninja traveled to Merlopia to investigate Kalmaar's plot and fix her powers. Following their escape from Merlopia, they struggled to protect the Storm Amulet needed to awaken Wojira. After Wojira was awakened, Nya was forced to merge with the Endless Sea, becoming a water spirit in order to defeat Kalmaar and Wojira and save Ninjago City at the cost of her humanity, but also ultimately save Jay's life as well. Eventually succeeding, she bid goodbye to the ninja and entered the sea.
History
Main article: Nya/History
Appearance
Nya has long dark hair kept in a ponytail, pale pink lipstick, and small dimples on her cheeks. She has a beauty mark on her right cheek. When in casual wear seen in "The Mask of Deception" and "The Explorers Club", she has a leather jacket over a white shirt with blue stripes and dark blue jeans. The color of her ponytail scrunchies changes often. For a majority of Seasons 8, 9, and 11, it was black (or gray), for her fisherman disguise in Season 9, it was yellow, for her kimono in episode 95, it was dark blue, and with her Season 10 suit, it was light blue. After combining with the Endless Sea, her body takes on a transparent water-like appearance where her eyes and lips turn light blue and she gains tidal markings on her face and torso.
Prior to Season 8, she had short black hair fashioned in a bob cut and red lipstick. Her lipstick changed to pale pink in Season 6 and her eyebrows changed slightly in Season 7. Her eyelashes were represented with three dashes before Season 8, but as of Season 8 she has single-line eyelashes similar to Skylor's. She typically wore clothing in various shades of red and gold with a gold phoenix as her symbol. In the show, she wore a large golden bracelet with a red jewel on her left arm which doubled as her communicator. On her alternate face print primarily seen in the Ninjago Spinners game, she has a red bandanna tied around the lower half of her face. Her original face prints also had red eyeshadow that was never present in the show but would sometimes appear in other media, including various points in the Dark Island Trilogy.
When corrupted by Dark Matter in the final few episodes of Season 2: Legacy of the Green Ninja, her skin and outfit were all grey and her eyes were purple.
As Samurai X, she has a gunmetal samurai helmet, with a bucket handle piece on top in the place of horns and a red face mask. She also has gunmetal samurai shoulder pads with a red armor suit underneath. In the show, she wears a pair of goggles over her eyes and her bracelet on her right arm.
During the battle against the Golden Master, her Samurai X armor became silver as did some of the stitching of her attire. During her time on Chen's island, she gained a Kabuki disguise from Dareth, which she incorporated into her next and final Samurai X suit: a black armored, red, and green suit with her gold phoenix symbol enlarged in the middle of her torso.
In "Endings," Nya wears half of the Yin-Yang medallion on her chest that Jay offered to her.
In an anime-styled scenes of "The Absolute Worst," Nya is shown to have gray eyes.
In the Prime Empire short, "Let's Dance," she wears a pink yukata, a light gray scrunchy, and black sandals.
For more images on Nya's appearance in her different Samurai X and ninja suits, click here or here.
Age
Like the majority of her fellow Ninja, Nya is in her late teens. She is two years younger than her brother, Kai.[1] However, the ninja do not officially have specific ages,[2] as they are meant to be perpetually in their teenage years for the duration of the show.[3]
Potential Estimations: During the events of the pilot and Season 1, Nya was at least 13 or 14 years of age.[4][5] She was around the same age as Lloyd after he was aged two years as a result of the Tomorrow's Tea.[6]
Relationships
Main article: Nya's relationships
Personality
Although she was not trained as a ninja early on, she is very capable of defending herself. She doesn't like the fact that so much focus is put on the ninja, so she resolved to become a hero in her own way, which she did by becoming Samurai X, and is highly independent, desiring the choice and ability to choose her own identity and destiny.
She also gets annoyed when people look at her differently because she's a girl within a prominently male group, as shown in Infamous and The Mask of Deception. She dislikes being labeled by association, like "Jay's girlfriend" or "Kai's sister", choosing to be her own person. Sometimes, she gets annoyed by Kai's protectiveness, but their bond as siblings is very strong. They support each other in many ways, despite Kai remarking in Season 1 about why his sister had to tag along, which Nya took lightly. Many episodes reveal she is highly intelligent, as she was able to create the Samurai armor and several types of technology, and she was able to pinpoint the location of Serpentine tombs. She is also more interested in fighting and training, as shown in the episode Wrong Place, Wrong Time, where Kai only trained to be a ninja because Nya wanted to.
It seemed that Nya was aware of Jay's crush on her very early on, such as when she nodded to Jay's offer to walk to the junkyard in "Snakebit," and by "Once Bitten, Twice Shy", she revealed that she returned his feelings. She may also have too much faith in machinery, or is easily influenced by them. In Season 3: Rebooted, she allowed a matchmaking machine to get between her and Jay by introducing Cole as a potential love interest. It seems she considered it in that season, but ultimately chose Jay. However, this process took a few seasons as Nya tried to separate herself from being solely a love interest for the main ninja.
Nya's weakness is her unwillingness to fail. Being good at so much, when she finds herself in a position to fail, she is quick to give up. She was the only ninja to unlock their true potential before learning Spinjitzu. True failure impacts her strongly, like in Season 10 when she blames herself for Cole's death. This is also seen in Season 14, as Nya's powers begin to go haywire, her aggression and denial against the possibility of failure returns. Likewise, she's insecure and sensitive about her own personal identity, either as Samurai X or her own role amongst the ninja team, and is conflicted over being told her destiny. Over time, Nya tries to grow and be satisfied with her roles, though her assumptions about herself are usually upturned. In Season 1, she was satisfied with being a Samurai instead of a ninja, despite being offered to see if she was the green ninja. In Season 5, just before Misako and Wu told her about her mother, Nya was very nonchalant that Kai inherited elemental powers from their father. She is also rarely jealous of Kai.
Apart from wanting to choose her own path, Nya does not feel the need to be well-known for her accomplishments and skills as long as she knows she's doing the right thing. For example, Nya did not reveal her identity as Samurai X even when the ninja admitted they were no match for the samurai.
In Season 8, Nya is shown to not be easily impressed by wealth or royalty. She had early unfounded animosity towards Princess Harumi and the royal family until she was praised for her skill by Harumi.
Nya is Jay's Yang, and therefore has kept a very stable relationship with him. She is annoyed when she has to prove herself or Jay worthy of being together. This is shown in Season 13 when Queen Murtessa shows interest in Jay, and Nya, who couldn't believe the ridiculousness of the situation, yells "I'm not going to fight for Jay!" This is also shown in The Island, when Kai remarks "Who would want Jay?" and Nya rebuttals that she does.
Growing up almost without her parents, Nya learned to take care of herself. She couldn't admit a mistake when she couldn't control her power and was very explosive about the subject. She was very angry when her brother called their mother to help her with the problem. She also didn't like the exaggerated care Maya gave her.
Nya is very explosive and hot-headed like her brother Kai, the master of fire. This implies how closely the two grew up together without much influence of their parents. Ray does not seem to be as impulsive as Kai, but Maya is definitely more of a soothing and elegant master of water.
Despite this, Nya is caring and sympathetic towards others, especially her team. As shown when she comforts P.I.X.A.L. over Zane's presumed death in "A Cold Goodbye" and Benthomaar over Trimaar's death in "The Tale of Benthomaar."
However, Nya is also sacrificial because she accepted her fate of merging with the Endless Sea to save Jay and the entirety of the realm.
After transforming into her new form, Nya experienced a significant change in her personality. It could imply that she developed humility as she becomes more accepting of her new life, which might've caused her to become mellow, as well. Despite losing much of her humanity, Nya still showed compassion when she comforts Jay before leaving.
She is also very messy and leaves a big mess in her room. She also doesn't like getting up early.[7][8]
Weapons and Abilities
Despite a lack of formal ninja training, Nya is a competent fighter, wielding a bo staff against the Skulkin when they attacked the blacksmith shop. Thanks to her background as a blacksmith,[9] she has a talent for engineering and operating machinery, building her Samurai X gear and the Samurai Mech in her spare time without any of the others noticing and modifying the Ultra Sonic Raider to give it a flight mode. Nya also helped Dr. Julien construct the Fire Mech and the Earth Driller. She is a skilled pilot, being the de facto operator of the Destiny's Bounty and the Samurai Mech. She often used a boomerang as a weapon.
After being corrupted by Dark Matter, Nya displays the ability to perform Spinjitzu, creating a crimson energy tornado that can knock the ninja around. She wields a spiked flail and sharp throwing needles in combat, and the evil suffusing her being made her completely ruthless as well as completely willing to destroy her former allies.
During the Nindroid crisis, Nya used a fan in combat.
When Nya became the Water Ninja, her fighting skills have increased. In Season 5, she unlocked the Elemental Power of Water, allowing her to perform hydrokinesis. Nya soon drowned The Preeminent, saving the city of Stiix. She also held her own against Dogshank. Nya can produce water from moisture in the air, however, it'll simply evaporate in extremely high temperatures such as the Desert of Doom or freeze up in extreme cold temperatures, like the Never-Realm during The Eternal Winter.
She can create and control water and use it for offense and defense attacks. From Season 6 onward, Nya can perform Airjitzu, along with the other ninja. Nya wields a Katana as her primary weapon and can also do hand-to-hand combat. Finally, Nya's Spinjitzu tornado (without being corrupted by Dark Matter) is now a dark blue/silver tornado, matching her element instead of the original crimson tornado. As of Season 8, Nya uses a spear as her primary weapon.
In Season 11, she trained under Sorla who helped her master control over Ice (but failed twice), as Zane was the Ice Emperor and wasn't helping the team out.
When she merged with the Endless Sea, she received full control over it and the element of Water. As the embodiment of the sea, she wields absolute control over the entire ocean. In addition, she can create avatars made out of water to embody her consciousness. Whilst these temporary avatars can be destroyed, she can simply create new ones, as such an incarnation of the ocean cannot truly be destroyed (save for the destruction/evaporation of the entirety of the ocean).
Vehicles
Dragons
Bikes
Cars
Mechs
Boats
LEGO.com descriptions
Rebooted

Sister of Fire

Weapon of Choice: Double daggers

Elemental color: Red

Strength: Intuition

Make no mistake – this girl is no damsel in distress. She proved that when she and Flame the fire dragon helped rescue Kai from Lord Garmadon. And she's not one to take no for an answer.

Nya is fed up with the Ninja's boys' club syndrome and is determined to show everyone she can do anything they can do – only better. She trains hard to beat her brother's records, and Sensei Wu constantly reminds her that if she is patient, her time will come.

Sons of Garmadon

Kai's younger sister, Nya, is a strong woman with great confidence and charm. Being the only girl in the group, she has always fought hard to be recognized as one of the ninja, even if that meant assuming a secret identity! As Samurai X, she often saved the day and once unmasked, she became a vital part of the team. She is an inventor and tech wiz. Nya has turned her blacksmith skills to the creation of high-tech vehicles and gadgets, as well as planning many of their most daring missions![9]

2019 (The Legacy of Nya)

Did you know? Nya is a Water Ninja, like her mother before her. Before she discovered her powers as a ninja, she trained on her own as Samurai X. (And saved the day and got the guys out of trouble more times than she can count.) Nya has always been an inventor and a gifted tech wiz. She uses her blacksmith skills to design and create high-tech vehicles and gadgets for the ninja. She is an expert at planning the most daring and dangerous missions. As Kai's younger sister, she has learned to keep her cool if the guys get a little too hot-headed. She's a strong woman, sweet, charming, and always wants what's best for the team. Favorite NINJAGO® Legacy Weapon in Season 1 & 2 Spears and katana. As the mysterious Samurai X, she favored the katana – a classic, razor-sharp and reliable blade that cuts clean and gets the job done. Quote "All I want is to be able to choose my own destiny."

2019

Nya - the Elemental Master of Water!

Nya is a strong woman who oozes great confidence and charm. The only girl on the ninja team, she had to fight for recognition at first, and resorted to creating an alternative identity to be seen and appreciated.

As 'Samurai X', she often saved the day and once unmasked, she was accepted as a vital member of the team. And with training from Master Wu, she has harnessed her elemental power of water to defeat many dangerous enemies.

Nya and her older brother Kai helped out in the family blacksmith shop when they were growing up and that experience has served her well. An inventive, tech wizard, she has adapted her blacksmith skills to create awesome vehicles and gadgets, as well as planning many of the ninja warriors' most daring missions.

A central figure in lots of thrilling NINJAGO® TV show episodes, fans love to role-play as this cool character with the Nya minifigures that feature in many LEGO® NINJAGO playsets.

2020

The ninja of water, Nya uses her mastery of this element to fight the evil invaders of NINJAGO. As Kai's younger sister and the only girl in the team, she is renowned as a bold and strong character.

Season 13

When the ninja get split up, Nya, Lloyd and Jay are taken in by the Munce. There, Queen Murtessa takes an instant liking to Jay and turns on Nya, whom she views as a rival for Jay's affection. Murtessa challenges Nya to combat. Nya is forced to fight her, and when she defeats Murtessa, discovers that she is expected to become the new Munce Queen! Long live Queen Nya! Like her brother, however, Nya doesn't want the job and finds being Queen more challenging than she anticipated. But she digs deep and manages to unite the two warring tribes against the Skull Sorcerer.

2021

FIND JOY IN LEARNING, WITH NYA

Nya knows that learning never ends, even when you become a true Master. But that's a good thing! Without curiosity, a ninja can never be a Master in the first place. And Nya knows that although it never ends, learning never stops being fun, either!

Nya is the Water Ninja. The adventurous Nya is always ready to embark upon the next big mission, and is usually the one doing the planning![10]
Appearances
Behind the scenes
Trivia
The Trivia on Nya needs to be organized.
You can help the wiki by organizing the following information chronologically based on how the information applies to the series.
This template can be removed once the section has been organized.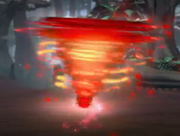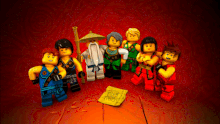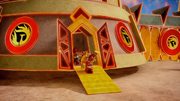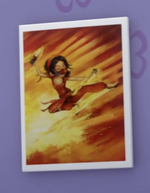 Videos
Gallery
Main article: Nya/Gallery
References
Community content is available under
CC-BY-SA
unless otherwise noted.