Jurassic World: Dominion Dominates Fandom Wikis - The Loop
Play Sound
Okino is a former NPC and a samurai that guided players to the purple Key-Tana in Terra Karana. After failing to lead dozens of players to victory, he eventually meets the ninja and promises them that he'll help them complete their quest. However, when he learned that Prime Empire was a game, he became depressed and realized everything he knew was false.
Eventually, when he became friends with the ninja and helped them get the purple Key-Tana, he decided to go on his own adventures after learning that he can make his own decisions.
After Unagami's Manifestation Gate brought Prime Empire's AI into Ninjago, Okino was quick to help the City's citizens under attack by the Red Visors and Whack Rats. He eventually chose to stay in Ninjago, once the conflict was over.
History
When Jay and Nya were playing Dancy Pants, Okino appeared in one of the video game consoles.
Okino made a cameo when an old commercial of Prime Empire was being shown.
He later appears when someone was playing Prime Empire.
Okino appeared in one of the game consoles when Leroy was playing Prime Empire. Moments later, he is shown when Leroy reached level thirteen.
Okino appeared in one of the arcade cabinets when a police officer was taking away an arcade cabinet.
In the digital world of Prime Empire. Okino spent his entire existence training around his house in the Forest of Discontent. When gamers started entering Terra Karana, players came through the arcade cabinet. Okino would treat them as his master and would guide them through the forest. The first player who came was a cocky newbie gamer, who wasted all four of his lives and becomes cubed. The ashamed Okino believed he had failed him and put his sword in the ground as a tribute to his fallen master. Over time player after player came and died and Okino put their swords near his house as a memorial. Okino started to lose all hope and stopped training has hard and became lazier. When a successful samurai and his sage master came Okino realized he needed a more positive attitude, So he trained harder awaiting a new gamer. When an adventure-ready woman came, Okino successfully led her through the forest. She made it further than any other of Okino's masters and she made it to the top of the Cliffs of Hysteria but was taken by a giant bird, losing her last life as a result. Okino put her sword into the ground and regretted that he had failed and that his name would be known for failure, He swore not to guide anyone else to their doom. But then the ninja came out of the arcade pod and he agreed to help them find the Purple Key-Tana.
Okino guided the ninja through the forest until they were ambushed by the Whack Rats. The tied-up Ritchie and he told them about a glitch they could use to get through the forest. Okino did not understand that Prime Empire was a video game, so he was shocked to see the digital glitch. The ninja and Okino entered the glitch and were ambushed by Red Visors as it was a trap set by Unagami. The ninja lost seven of their lives as a result, and Okino saved them by fighting off the Red Visors. The ninja left the glitch to the end of the forest and Okino came with them. Okino was sad to discover the true nature of his world and the ninja cheered him up saying he could be a friend of theirs, and they would need his help as they didn't have many lives left.
Okino walked through Terra Karana with the ninja depressed that his world was a lie and that he was a pawn. He guided the ninja up the Cliffs of Hysteria. When the Red Visors ambushed them, he hung next to the cliffside depressed and deflected one of Unagami's aerial drones' laser beams back at it. When the ninja reached the top of the cliff, Okino told the ninja that since he was programmed by Unagami then he can't be trusted and could betray them, but the ninja told him he can make his own choices. Okino decided to follow the ninja through the maze.
Okino narrated his story while following the ninja into the Maze of the Red Dragon. He guided the ninja through the maze and spotted out boobytraps. When the ninja had to choose between going left or right and asked Okino, Unagami stopped time and confronted Okino. Unagami told him that the ninja are truthful that Okino is not real, to his sadness.
However, Unagami tells him that he is building a machine that will give Okino a place in the Ninjago. Unagami told Okino that the ninja oppose him and that they must be destroyed. Okino said that would be dishonorable and denied. Unagami claimed that if he helped the ninja then he'll stay in Prime Empire forever. Then, time unfroze, and Okino told the ninja to go left. When they found the Key-Tana, Okino told the ninja to sneak up on the Red Dragon, However, Jay failed and the dragon woke up and the ninja had to fight it. Unagami stopped time again and asked Okino to be silent and allow the ninja to perish. Torn between the two sides, Okino showed the ninja the dragon's weak spot. The ninja attacked it until Jay grabbed the Key-Tana and used it to defeat the Red Dragon. The dragon was reduced to an amulet, and Okino told him that he could use it in a future battle once and only once. Unagami stopped time again and told Okino that the gate would still be opened but swore Okino would never see it. The ninja told Okino that he could come with them but Okino chose to seek his own adventure. He placed his sword in the ground near his house with the swords of his fallen masters and left to start his own journey.
Okino appeared in one of the posters that were in Milton Dyer's room.
Okino appears in marketplace and smiles when Racer Seven and the ninja won the Speedway Five-Billion.
Okino witnesses the shock wave from the Temple of Madness.
Okino enters Ninjago City and defends two civilians from Ritchie and Richie. He, along with Gayle Gossip and Vinny, find themselves surrounded by Red Visors, only from them to shutdown.
As he was not seen returning to Prime Empire, this means he chose to live in Ninjago like he originally wanted to.
Okino was seen reading a newspaper, and later seen running for cover alongside other citizens.
Okino was at Nya's memorial.
Okino had just purchased some noodles from a ramen noodle cart when the van carried by Zane's flies by over him, nearly making him lose his noodles, but he swiftly caught them.
Personality
After years of consistent failures, Okino became jaded in his duties as a guide. While he tries to retain his sense of guidance, it is shown that watching dozens of players fail has taken its toll on him. Eventually, he meets the ninja who explain the truth of his existence. Although he became depressed and realized everything he knew was false, he overcame his sadness and promise his new friends that he'll help them complete their quest. To that end, he betrayed Unagami and aided the ninja before he became a Rōnin to find a place for himself.
After he arrives in Ninjago through the Manifestation Gate, Okino retained his heroic nature by quick to help citizens under attack by the Red Visors and Whack Rats. Once the conflict ended, he decided to make a new life for himself. Okino retains loyalty to those who helped him, as he attended Nya's memorial to honor the loss of his good friend.
Relationships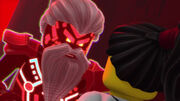 Okino is the "son" of Unagami. After Okino betrayed his creator by helping the ninja obtaining the Purple Key-Tana, Unagami gained a hatred for him and promised that he'll never leave Prime Empire.
When Okino told Unagami about the ninja saying that Prime Empire was only a game, Unagami admitted that the ninja were right but told the sadden Okino that he intends to construct a machine that would allow him to travel to Ninjago and questions Okino if he would like to go there as well. Despite Unagami's desire for Okino to betray the ninja, the honorable samurai refused.
During "Game Over," Unagami was successful in using his machine and released his creations on Ninjago. Okino was free as well and saved many civilians. After Jay helped Dyer and Unagami reconcile, Unagami released all the game characters from the game to live out free and real lives in Ninjago, Okino included.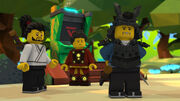 The Successful Samurai met Okino as he passed Terra Karana with his master . Okino was thrilled that his master had not yet been repeatedly destroyed, and the samurai's words gave him hope.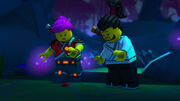 Okino originally was a guide to the Forest of Discontent, the Cliffs of Hysteria, and the Maze of the Red Dragon. However, many of the Avatars that he was to convert across Terra Karana did not listen to him and were turned into Energy cubes, which resulted in Okino's declining self-confidence.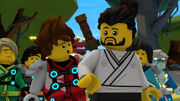 After many of Okino's disappointments, the ninja were finally masters, whom he led to the Red Dragon.
Thanks to the ninja, he learned that Prime Empire was just a video game, that he couldn't believe until it was proven to him in their adventure. The ninja comforted him on his identity crisis and revealed they have come to consider him their friend, and so did he, as he refused to obey Unagami and betray the ninja.
After going to Ninjago, Okino was still a good friend of the ninja by helping protect the citizens. Okino was also present at Nya's memorial, mourning her disappearance.
Although he swore to guide and protect all of his masters, including the six ninja, Okino seems to have a special bond with Lloyd, as he was the one who comforted and encouraged him the most during his existential depression. Unlike the other ninja whom he simply addresses by their first name, Okino calls Lloyd "Master Lloyd". Okini was originally conflicted on whether to heed Unagami's orders or not, but because of Lloyd's words that he had the ability to choose his own way he ultimately decides to defy his creator even if it cost him the chance to enter the real world. Thankfully, Okino was able to join Lloyd and the others in the real world during "Game Over."
Okino assisted Kai and the rest of the ninja through Terra Karana and respects him as one of his masters. After their victory against the Red Dragon, Kai pats Okino in the back as they celebrate.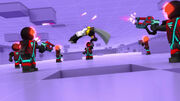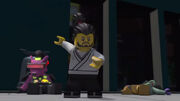 After Okino betrayed Unagami, Okino had to face off againsts Unagami's trusted allies from Prime Empire, the Red Visors and the Whack Rats. During the attack by Unagami, Okino helped saved the citziens of Ninjago when they were being attacked by the two groups until they willingly returned to their world.
Allies and enemies
Family

Allies

Enemies
Appearances
Sets
Video games
Behind the scenes
Trivia
Gallery
Minifigures
Promotional media
In other media
References