"We have come to cause suffering and pain! To end your civilization with our flames of torment!"
— A Pyro Viper, after being asked their purpose in Ninjago City
The Pyro Vipers are an ancient tribe of Serpentine who live in the Desert of Doom, led by Aspheera. They were once ruled over by Mambo the Fifth. They were entombed in the Ancient Pyramid, now the only remnant left of their culture. When the Ninja explored the pyramid and unwittingly released Aspheera, the pyramid's destruction freed the rest of the Pyro Vipers. They regained the power of fire from the lava which released them from their sarcophagi. Their goals are to conquer Ninjago and exact revenge upon the boy who imprisoned them long ago. They serve as the villainous faction of the first part of Season 11, The Fire Chapter.
History
Past
The Pyro Vipers were originally a tribe of Serpentine that built pyramids and were ruled by King Mambo the Fifth. They had a truce saying that humans could not enter the valley that would become the Desert of Doom. One day Wu and Garmadon entered the valley and were captured by Pyro Vipers. But then they were released by a Serpentine sorceress in service of the king who befriended Wu. Aspheera the serpentine witch was taught spinjitzu by Wu.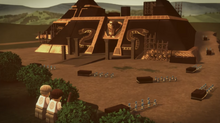 Afterwards, Aspheera overthrew Mambo the Fifth and met her servant Char. However, Wu used the Scroll of Forbidden Spinjitzu. To stop her and put Mambo back into power who sentenced aspheera to magical entombment.
Eventually the Pyro Vipers would die off and the Ancient Pyramid would be the last remnant of their culture.
Zane saw them marching in his dream.
Zane saw Aspheera in the Samurai X Cave 2.0 in another one of his dreams.
The ninja entered the pyramid and released the Aspheera who caused the pyramid and the Fire Fangs.
The Fire Fangs go on a rampage through Ninjago City.
The ninja come across three sarcophagi of two Pyro Whippers and a Pyro Destroyer. Lava enters the room which empowers them and releases them.
The news is under attack by fire fangs and Aspheera talks on the news and sees an advertisment for the Scroll of Forbidden Spinjitzu at the Museum.
Known Members
Trivia
Gallery
Community content is available under
CC-BY-SA
unless otherwise noted.