Wiki Targeted (Entertainment)
Play Sound
"
Ninja Jay! I challenge this "moutsider" creature to combat, for you! I wish you to be my King, for even though you have tiny arms and ugly human face, you have a stout heart and are a mighty warrior! We should be together.
"
"Queen of the Munce"
Season 13, Episode 5
Air date
July 9, 2020 (Australia)
September 27, 2020 (US)
November 15, 2020 (Canada)
Written by
Bragi Schut
Directed by
Shane Poettcker
Episode guide
Previous
"The Two Blades"
Next
"Trial By Mino"
Queen of the Munce is the fifth episode of the thirteenth season of Ninjago and the 149th episode overall. It aired first in English on July 9, 2020, in Australia. It aired in the US on September 27, 2020, along with "Trial By Mino".[1]
Synopsis
Jay, Nya and Lloyd are led deep into the Mines of Shintaro by Murt, who brings them back to the Munce "Home- Cave" - a settlement deep in the mountain.[2]
Cartoon Network Asia: Having become separated from the others, Nya, Jay and Lloyd are led back to the Munce "Home-Cave" by a Munce named Murt.[3]
Extended: Having become separated from the others, Nya, Jay and Lloyd are led back to the Munce "Home-Cave" by a Munce named Murt. There, they are introduced to the Munce Queen, Murtessa, who immediately falls for Jay, whom she considers a powerful warrior. Realizing that Nya and Jay are together, the queen turns on Nya and challenges her to combat to determine which of them shall wed Jay.[4]
Plot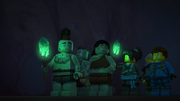 Jay, Nya, and Lloyd follow the Munce to their home; however, Murt cannot remember where to go. He points out their possible paths including the one where they just came from. Jay moans thinking they'll never escape the tunnels, but Nya finds footprints and they follow the tracks.
The ninja finally arrive at the Munce Home-Cave and are amazed at the architecture. Before they could enter, two Munce Sentries ask who is entering and Murt is confused at the question until Lloyd tells him who they're talking about. Murt tells them his name, and the two guards realize he escaped from the Skull Sorcerer. He then credits the ninja and they're invited into the Throne Room to meet Queen Murtessa.
Murtessa realizes it's Murt and he shows the ninja who helped him escape. Murt then explains how they were able to escape the Skull Sorcerer using exaggerated body motions. Murtessa then approaches the ninja and takes affection for Jay, thanking them for saving her people. She then turns to Nya and thinks she some sort of servant, but Jay corrects her saying she is his Yang. Murtessa then heads back saying they could have anything they wanted, even Nya who she despises and calls her a "Yang-Servant".
Nya gets frustrated that she was called a "Yang Servant" and is upset at Jay for not saying anything. Lloyd tells them to calm down and notices a picture depicting a warrior fighting a dragon. Lloyd wonders if the warrior is "Gilly". The Munce guards then ask the ninja if they would like to eat with Murtessa, and they all happily agree, but the guards would only allow Jay to dine with Murtessa. Nya is then irate and demands they should all eat together since they're a team. Nya asks Jay if he agrees, but he's about to enter the dining room, so she grabs Jay and asks again. Jay finally agrees and the guards allow the ninja to enter.
Inside the dining room, Murtessa originally sees Jay enter the room and is elated, but her mood switches to annoyance when she sees Nya and Lloyd enter the room. Murtessa asks if Jay knows Spinjitzu and he replies yes. She then asks Jay if he has Elemental Powers, and once again, he replies with yes. Nya then tries to tell Murtessa they all have powers, but she doesn't care and asks Jay if he can show a demonstration. Jay then uses Lightning to turn all of the green crystals light blue which impresses everyone. Murtessa walks up to Jay and asks if he's betrothed and Nya sharply replies that he's in love with her. Murtessa and Nya then stare each other down, and Lloyd tries to get things back on track, but Murtessa kicks everyone's food and demands a duel with Nya. Nya is shocked that she has to fight for the right to be Jay's love interest, so Murtessa taunts Nya saying she's a child. Nya, getting hot-tempered, accepts the duel.
As Nya gets prepared to battle Murtessa, Lloyd and Jay beg her to not fight, citing that there are better options. Nya then asks Jay what would happen if she didn't fight. She tells Jay Murtessa wants him to be the king and he would have to stay down in the cave forever, as well as eating disgusting food. Jay then realizes it and cheers for Nya to pull out a victory.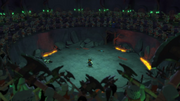 Inside the arena, Nya attempts to attack Murtessa; however, Murtessa is able to avoid it. Murtessa then performs some weird moves before finally curling up into a ball and knocking Nya off her feet. Nya tries to get up, but Murtessa continues to roll Nya over. After getting beaten up, Nya decides to use Spinjitzu and is able to knock Murtessa unconscious. The Munce realize Murtessa lost, and begin chanting "Queen Mya", and the ninja realize they have bigger problems.
Cast
Transcript
For the transcript of the episode, click here.
Locations featured
Trivia
Continuity
Video
Gallery
For the gallery of the episode, click here.
References