Jurassic World: Dominion Dominates Fandom Wikis - The Loop
Play Sound
Not to be confused with the Mary Louise's captain.
"One eye may be glass, but me other eye sees clear as a bell, a wicked storm's a-brewing, and there ain't no ships to chart."
The Ship Captain,[1] also known as simply the Captain[2] and the Salty Old Man,[3] is a sailor in Ninjago Harbor.
History
The Ship Captain was seen on his ship on the sea when the ninja lured the Fangfish into his boat.
As the Ghost Warriors overtake Stiix, he orders the waiter to keep the food coming, claiming that the ghosts' appetites are nothing like he's ever seen. He later steers the ship full of people trying to escape as the Preeminent destroys the town.
Nya, desperate to get everyone to safety, asks the captain if his boat can go any faster. He replies by saying his paddle steamer is not a rocket ship.
When the ninja arrive at the harbor, they ask the Ship Captain, who appears to be drunk, if they will lend them a ship. He tells them that a storm is approaching and that other sailors would not lend them a ship either. When Jay asks if the ship is next to Cliff Gordon's yacht, he says yes.
After hiring Sqiffy and Bucko, he realized that all they did was cause trouble like breaking down the ship and painting it bright colors. He then fired them, where they started their work as Sky Pirates.
Appearances
Trivia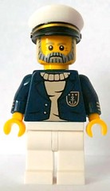 Gallery
References