These are the relationships of the current Snake King, Skales.
Family
Friends
Pythor (Possibly Formerly)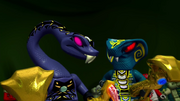 Skales was Pythor's second-in-command.
After, Pythor released the Constrictai and Venomari, Skales came in contact with Pythor and helped him bring the Serpentine tribes together.
Enemies
The Ninja (Formerly)
Lloyd (Formerly)
Garmadon (Possibly Formerly)
"Do you not remember he was just helping the Ninja? Now you blindly follow him because of his wizardry? He's not even a Serpentine."
— Skales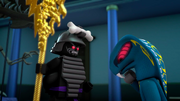 When Garmadon met the Serpentine in "Darkness Shall Rise," Skales was surprised to see him and gained more hatred to him as the former took control of the Serpentine army.
In "Child's Play," Skales mocked Garmadon when he failed to resurrect the Grundle.
In "The Stone Army," Skales became tired of being pushed around by Garmadon and saw an opportunity of getting rid of him when he was looking for the Dark Island.
Community content is available under
CC-BY-SA
unless otherwise noted.