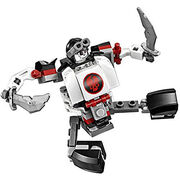 The Skulkin Mech was a small mech built for the Skulkin to use in battle. On the Day of the Departed, Krazi and Frakjaw piloted two as they aided Samukai in assaulting Jay. Shortly after their arrival at Ed & Edna's Scrap N Junk, Jay quickly destroyed both mechs with bolts of lightning. 
History
The mech was used by Frakjaw when he and Krazi joined their temporarily-revived former leader, Samukai, in attacking Ed & Edna's Scrap N Junk so that Samukai could eliminate Jay and take his place among the living. It was disabled fairly early in the fight.
Appearances
Trivia
It is possible—though unconfirmed—that the Skulkin Mech was created by Dr. Julien, who was also responsible for building the other Skulkin vehicles.
Although being in a museum, this mech never appeared before "Day of the Departed."
Gallery
Community content is available under
CC-BY-SA
unless otherwise noted.