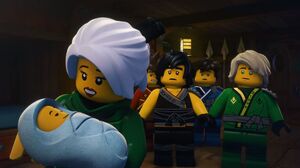 Spider's In The House is a song sung by Harumi, originally sung by Hutchins to Harumi to help her sleep at night, and then by Harumi to calm baby Wu. Being sung by Harumi, the song has a double meaning; the song's lyrics describe a vicious spider hiding somewhere nearby, which lines up with Harumi's villainous intentions hiding in plain sight.
Lyrics
Spider's in the house,
Sleep Sleep
Spider bit the mouse,
Sleep deep
Don't wake up or else
You'll find a spider in your mouth.
Notes
Harumi sings the song in "Dead Man's Squall," "The Quiet One," and "Dread on Arrival."
Harumi thought that the song was creepy, but later used it as inspiration to fulfill her goals.
This song is a parody of the Itsy Bitsy Spider lullaby but with the mouse section.
The song was inspired by the lullaby "Rock A Bye Baby."[2]
References
Community content is available under
CC-BY-SA
unless otherwise noted.