Jurassic World: Dominion Dominates Fandom Wikis - The Loop
Play Sound

Stop, Drop and Side Scroll is the twelfth episode of the twelfth season of Ninjago and the 140th episode overall. It aired on April 19, 2020 in Australia, and aired on April 25, 2020 in Asia, and were both paired up with "The Speedway Five-Billion." It aired in the US on August 16, 2020.
Synopsis
Our ninja barely have time to mourn the loss of their fallen ninja friends before being thrust into the madness of Terra Domina.[1]
Extended: Devastated by the loss of Cole and Kai, the surviving ninja push on into Prime Empire's third and final game zone - Terra Domina. They ultimately arrive at the upper-most level where Unagami's voice tells them that one of the ninja will now face the form of his own most dreaded challenger. Lloyd is selected and finds himself facing an avatar of Harumi.[2]
Plot
The remaining ninja—Lloyd, Nya, and Jay—head through Terra Technica and sneak past Red Visors. As they move, they watched replay of Kai and Cole being cubed from the Speedway Five-Billion, discouraging them. Lloyd tells the two of them that Kai and Cole would want them to keep on moving, which they do. Jay shows them to the last Arcade Cabinet that would take them to the next area, Terra Domina.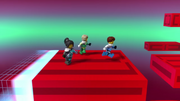 When arriving, they find themselves in an entrance shaped similar to the Temple of Madness, which lead to the side-scrolling platforms, where they have to beat all the levels to reach the end. Jay describes how this works: As they keep moving, the ground will disappear behind them and will go faster as they progress, as they keep moving they will need to dodge objects and falling bricks. If one of them dies, they all have to start over. As Nya questions the last rule, she is hit by a giant swinging sledgehammer with spikes, killing her.
The trio respawns back at the beginning, with Nya on her last life. Lloyd expresses his annoyance about having to repeat that again. Jay tells them if they pay attention, they can do this. As they get farther, Jay passes three of the same hammers that killed Nya earlier. As he dances in his victory, he barely evades a falling brick. As he laughs at the brick, another one falls and crushes him.
They respawn back at the start again, now with Jay standing on his last life. They move on again until Lloyd gets blocked by a giant wall. He tries to double jump over it but doesn't have enough room to get high enough. Instead, he hits the wall and falls to his death.
The three respawn back at the beginning once more, now with all of them down to one life. Jay tells them that they can't afford any more mistakes. This time, they make it through the first section.
The music gets faster and Jay realizes this as the game is getting harder. They are then greeted by an infinity maze going upwards and the floor slowly disappearing beneath them. They travel upwards and after a while, they slowly get tired. Just as they think the side-scroller is endless, Nya gets a Loot-Box and unlocks the ability to perform Airjitzu. Jay and Lloyd tell Nya to go on without them but says for them to grab and hold tight and flies up to the top.
When they arrive at the top, they find themselves having to choose a champion to face their most dreaded challenger and obtain the Orange Key-Tana. Lloyd is chosen and walks in the fighting arena. Unagami chooses and spawns Lloyd's most dreaded challenger, which was Harumi, which surprises Lloyd. Jay and Nya try to warn him of what Unagami is doing, but a dome blocks them from entering the arena and mutes their voices from the inside.
Harumi starts by tricking Lloyd to make him not want to fight her and seizes the opportunity to get the first hit on Lloyd. Lloyd holds back, not wanting to fight her. Jay and Nya try to tell Lloyd to fight her since this was not the real Harumi, but their efforts were useless. Lloyd starts making counter-attacks on Harumi, and as Harumi locks swords with Lloyd, she tries to trick him by saying that she was sorry for everything. Lloyd asks Harumi if it was really her. Jay again tries to warn his friend, but cannot due to the dome interfering. Lloyd breaks away from Harumi and proves if this was really her by asking her what they did the first night they were alone together. When Harumi answers incorrectly, Lloyd sees through this, realizing that this was not the real Harumi. Harumi and Lloyd start trading hits and blows at each other, both at low health now. Both make a final charge at each other and make a final attack on each other. Harumi dies first, while Lloyd loses his final life (which is resulted in draw), turning into an Energy Cube and getting absorbed by a drone.
However, Lloyd defeating Harumi earned the Orange Key-Tana, which Jay and Nya obtained. Jay and Nya mourn over Lloyd's loss for a short period of time before Nya asks Jay what to do. Jay grabs the Key-Tana and tells her that they will stop Unagami and get their friends back. Nya nods as the door in front of them opens up and they walk through it.
Cast
Transcript
For the transcript of the episode, click here.
Locations featured
Trivia
Narrator: Jay
The title of the episode is a portmanteau of "stop, drop, and roll," and "side-scrolling."
Jay performs the "Hype" dance from Fortnite.
The two main gaming sections of the episode can be compared to various real-life videogames:
Continuity
This marks the first physical appearance of Harumi since "Saving Faith," albeit as an Avatar.
Pixelated avatars of Clutch Powers, Aspheera, Wu's chicken, and Garmadon appear, as an opponent for Lloyd was being selected.
This episode marks the first appearance of Airjitzu since "Lost in Time."

Nya refers to it as "Cyclon-Do", which is how Jay referred to it in Possession in spite the other ninja's aversion to the name during that time.

This episode shares similarities with "Wishmasters", much like all of Prime Empire sharing similarities with Skybound.

Lloyd loses his final life, only leaving Jay and Nya standing to face Unagami, the main antagonist. At the end of "Wishmasters," Jay and Nya are the only ninja left to face Nadakhan, the main antagonist, after Lloyd and Cole are absorbed into the Djinn Blade.

Lloyd references the events from "The Jade Princess" during his fight with Harumi.
The Temple of Madness floating in the skies is similar to the Temple of Airjitzu when seen in the Ethereal Divide.
Jay, Nya, and Lloyd each lose one of their two lives while navigating through the game.
The arcade machine in which the ninja enter the game is similar to Kai's Arcade Pod.
The animation of Lloyd charges at Avatar Harumi was reused in "The Ascent", when Hailmar charges at Vania.
Errors
Lloyd's shoulder pads disappear in one shot during the fight scene with Avatar Harumi.
In the credits, Avatar Harumi is credited as Princess Harumi.
It is unknown why Avatar Harumi was unaware of Harumi and Lloyd giving food to the poor, when it was shown that she clearly remembered her death.
When Lloyd's opponent is being chosen, Garmadon's hands are yellow instead of black.
Gallery
For the gallery of the episode, click here.
References
Ninjago

episodes

Pilot episodes

1. Way of the Ninja · 2. The Golden Weapon · 3. King of Shadows · 4. Weapons of Destiny

Mini-movies

1. Secrets of the Blacksmith · 2. Flight of the Dragon Ninja · 3. The New Masters of Spinjitzu · 4. An Underworldly Takeover · 5. Return to the Fire Temple · 6. Battle Between Brothers

Season 1: Rise of the Snakes

1. Rise of the Snakes · 2. Home · 3. Snakebit · 4. Never Trust a Snake · 5. Can of Worms · 6. The Snake King · 7. Tick Tock · 8. Once Bitten, Twice Shy · 9. The Royal Blacksmiths · 10. The Green Ninja · 11. All of Nothing · 12. The Rise of the Great Devourer · 13. Day of the Great Devourer

Season 2: Legacy of the Green Ninja

14. Darkness Shall Rise · 15. Pirates vs. Ninja · 16. Double Trouble · 17. Ninjaball Run · 18. Child's Play · 19. Wrong Place, Wrong Time · 20. The Stone Army · 21. The Day Ninjago Stood Still · 22. The Last Voyage · 23. Island of Darkness · 24. The Last Hope · 25. Return of the Overlord · 26. Rise of the Spinjitzu Master

Season 3: Rebooted

27. The Surge · 28. The Art of the Silent Fist · 29. Blackout · 30. The Curse of the Golden Master · 31. Enter the Digiverse · 32. Codename: Arcturus · 33. The Void · 34. The Titanium Ninja

Season 4: Tournament of Elements

35. The Invitation · 36. Only One Can Remain · 37. Versus · 38. Ninja Roll · 39. Spy for a Spy · 40. Spellbound · 41. The Forgotten Element · 42. The Day of the Dragon · 43. The Greatest Fear of All · 44. The Corridor of Elders

Season 5: Possession

45. Winds of Change · 46. Ghost Story · 47. Stiix and Stones· 48. The Temple on Haunted Hill · 49. Peak-a-Boo · 50. Kingdom Come · 51. The Crooked Path · 52. Grave Danger · 53. Curseworld, Part I · 54. Curseworld, Part II

Chen mini-movies

(non-canon)
1. Chen's New Chair · 2. Chair Play Chen · 3. Chair Up Chen · 4. Chairful What You Wish For · 5. Bad Chair Day

Season 6: Skybound

55. Infamous · 56. Public Enemy Number One · 57. Enkrypted · 58. Misfortune Rising · 59. On a Wish and a Prayer · 60. My Dinner With Nadakhan · 61. Wishmasters · 62. The Last Resort · 63. Operation Land Ho! · 64. The Way Back
Tall Tales (non-canon)
1. The Tall Tale of Flintlocke · 2. The Tall Tale of Clancee · 3. The Tall Tale of Doubloon · 4. The Tall Tale of Dogshank · 5. The Tall Tale of Monkey Wretch · 6. The Tall Tale of Sqiffy and Bucko
Special
Day of the Departed

Operation Heavy Metal

1. Operation Heavy Metal: Machia · 2. Operation Heavy Metal: Buffmillion · 3. Operation Heavy Metal: Blunck · 4. Operation Heavy Metal: Raggmunk

Season 7: The Hands of Time

65. The Hands of Time · 66. The Hatching · 67. A Time of Traitors · 68. Scavengers · 69. A Line in the Sand · 70. The Attack · 71. Secrets Discovered · 72. Pause and Effect · 73. Out of the Fire and Into the Boiling Sea · 74. Lost in Time
Wu's Teas mini-movies (non-canon)
Wu's Teas

Ninjago: Decoded

1. Legacy · 2. Vehicles and Mechs · 3. Legendary Places · 4. Ninjago's Most Wanted · 5. The Digiverse and Beyond · 6. The Elemental Masters · 7. Beasts and Dragons · 8. Rise of Garmadon · 9. Prophecy of the Green Ninja · 10. Greatest Battles

Season 8: Sons of Garmadon

75. The Mask of Deception · 76. The Jade Princess · 77. The Oni and the Dragon · 78. Snake Jaguar · 79. Dead Man's Squall · 80. The Quiet One · 81. Game of Masks · 82. Dread on Arrival · 83. True Potential · 84. Big Trouble, Little Ninjago

Season 9: Hunted

85. Firstbourne · 86. Iron & Stone · 87. Radio Free Ninjago · 88. How to Build a Dragon · 89. The Gilded Path · 90. Two Lies, One Truth · 91. The Weakest Link · 92. Saving Faith · 93. Lessons for a Master · 94. Green Destiny

Tales from the Monastery of Spinjitzu

1. Master Class · 2. Green and Gold · 3. The Weekend Drill · 4. Elemental Rider · 5. Blue Lightning · 6. Samurai X-Treme

Season 10: March of the Oni

95. The Darkness Comes · 96. Into the Breach · 97. The Fall · 98. Endings

Season 11: Secrets of the Forbidden Spinjitzu

99. Wasted True Potential · 100. Questing for Quests · 101. A Rocky Start · 102. The Belly of the Beast · 103. Boobytraps and How to Survive Them · 104. The News Never Sleeps! · 105. Ninja vs Lava · 106. Snaketastrophy · 107. Powerless · 108. Ancient History · 109. Never Trust a Human · 110. Under Siege · 111. The Explorers Club · 112. Vengeance is Mine! · 113. A Cold Goodbye · 114. The Never-Realm · 115. Fire Maker · 116. An Unlikely Ally · 117. The Absolute Worst · 118. The Message · 119. The Traveler's Tree · 120. Krag's Lament · 121. Secret of the Wolf · 122. The Last of the Formlings · 123. My Enemy, My Friend · 124. The Kaiju Protocol · 125. Corruption · 126. A Fragile Hope · 127. Once and for All · 128. Awakenings

Prime Empire Original Shorts

1. Let's Dance · 2. Upgrade · 3. The Meaning of Victory · 4. The Stowaway · 5. Manhunt · 6. Gayle Gossip: A Closer Look

Season 12: Prime Empire

129. Would You Like to Enter Prime Empire? · 130. Dyer Island · 131. Level Thirteen · 132. Superstar Rockin' Jay · 133. I am Okino · 134. The Glitch · 135. The Cliffs of Hysteria · 136. The Maze of the Red Dragon · 137. One Step Forward, Two Steps Back · 138. Racer Seven · 139. The Speedway Five-Billion · 140. Stop, Drop and Side Scroll · 141. Ninjago Confidential · 142. The Prodigal Father · 143. The Temple of Madness · 144. Game Over

Season 13: Master of the Mountain

145. Shintaro · 146. Into the Dark · 147. The Worst Rescue Ever · 148. The Two Blades · 149. Queen of the Munce · 150. Trial By Mino · 151. The Skull Sorcerer · 152. The Real Fall · 153. Dungeon Party! · 154. Dungeon Crawl! · 155. Grief-Bringer · 156. Masters Never Quit · 157. The Darkest Hour · 158. The Ascent · 159. The Upply Strike Back! · 160. The Son of Lilly

The Island

161. Uncharted · 162. The Keepers of the Amulet · 163. The Gift of Jay · 164. The Tooth of Wojira

Season 14: Seabound

165. A Big Splash · 166. The Call of the Deep · 167. Unsinkable · 168. Five Thousand Fathoms Down · 169. The Wrath of Kalmaar · 170. Long Live the King · 171. Escape from Merlopia · 172. The Tale of Benthomaar · 173. The Storm Amulet · 174. Riddle of the Sphinx · 175. Papergirl · 176. Master of the Sea · 177. The Calm Before the Storm · 178. Assault on Ninjago City · 179. Nyad · 180. The Turn of the Tide

Ninjago: Reimagined

1. Golden Legend · 2. Gold Rush · 3. A Day in the Life of a Golden Ninja · 4. Sweatin' to the Goldies · 5. Golden Hour

The Virtues of Spinjitzu

1. Curiosity · 2. Balance · 3. Wisdom · 4. Honesty · 5. Generosity · 6. Courage

Season 15: Crystalized

181. Farewell the Sea · 182. The Call of Home · 183. The Shape of Nya · 184. A Mayor Problem · 185. Public Enemies 1, 2, 3, 4 and 5! · 186. A Painful Promise · 187. Ninjago City vs. Ninja · 188. Kryptarium Prison Blues · 189. Hounddog McBrag · 190. The Benefit of Grief · 191. The Fifth Villain · 192. The Council of the Crystal King · 193. TBA · 194. TBA · 195. TBA · 196. TBA · 197. TBA · 198. TBA · 199. TBA · 200. TBA · 201. TBA · 202. TBA · 203. TBA · 204. TBA · 205. TBA · 206. TBA · 207. TBA · 208. TBA · 209. TBA · 210. TBA
Unknown Ninjago 2023 installment
TBA