Wiki Targeted (Entertainment)
Play Sound
"
I'm revising my opinion. Samurai X is the worst!
"
"The Absolute Worst"
Season 11, Episode 19
Air date
September 7, 2019 (Malaysia)
September 23, 2019 (Australia)
October 11, 2019 (Canada)
December 21, 2019 (US)
Written by
Kevin Burke
Chris Wyatt
Directed by
Wade Cross
Episode guide
Previous
"An Unlikely Ally"
Next
"The Message"
The Absolute Worst is the nineteenth episode of the eleventh season of Ninjago and the 117th episode overall. It aired in Malaysia on September 7, 2019, on September 23, 2019 in Australia, and on October 11, 2019 in Canada. It also aired in the United States on December 21, 2019, paired up with "An Unlikely Ally." However, in most other countries, this episode was paired up with "The Message."
Synopsis
Back in Ninjago City, three criminals learn of the ninja's absence and stage a breakout of Kryptarium Prison, telling tall tales of how they were captured as they go.[1]
Extended: Two prison guards reading a newspaper article about the ninja's abrupt disappearance are admonished by Warden Noble to keep the news quiet. Unfortunately, the article blows over a prison wall and into a yard where The Mechanic learns of the news. This prompts him to accelerate the timeline for a prison escape he has been planning with Ultra-Violet. They tunnel into the walls behind Kryptarium, where they are coincidentally joined by Fugi-Dove, another inmate who has been planning his own escape. As the three criminals make their way out of Kryptarium Prison, they tell tall tales of their own captures and argue over which of the ninja is the worst. They finally escape, only to be recaptured by Pixal, whom they all conclude is the ""worst ninja of all."[2]
Plot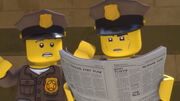 At Kryptarium Prison, two prison guards are reading the newspaper and specifically a conspiracy theory about the ninja's whereabouts. Before they could speak, Noble tells the officers to be quiet on duty, or else the prisoners would know the ninja are missing.
Suddenly, the newspaper flies into the air and finds itself in the hands of The Mechanic. When he reads the article concerning the missing ninja, he shows the page to Ultra Violet. They then plan to break out of Kryptarium Prison at night.
When the lights go off, The Mechanic makes his move by removing his prosthetic arm in order to steal the guard's key. He is able to free himself plus Ultra Violet and they escape using a dug tunnel.
They reach the sewer where they begin to argue who's the worst ninja to face. Ultra Violet says it's Zane, while The Mechanic argues that it's Nya. While debating, Fugi-Dove interrupts them saying Jay is the worst. They are initially confused about who Fugi-Dove is despite giving his background information.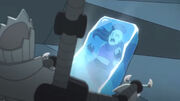 Ultra Violet continues to make her point that Zane is the worst ninja. During a battle, when she had Lloyd and Nya surrounded before they got on their knees to beg until Zane distracts her by shooting rockets at her. She dodges the blows and scrambles up a building to fight Zane. Fugi-Dove interrupts to state Zane froze her with a dragon, as Violet calls the story a lie. A duel ensues until Zane transforms himself into an upgraded machine that freezes her.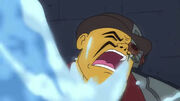 After Ultra Violet speaks about Zane, The Mechanic argues Nya is the worst ninja. The Mechanic used his Noodle Truck of Crime in order to rob a jewelry store. When he is finished stealing, he spots Nya on the horizon and uses the weapon on his truck, but Nya avoids them all and stands on top of the hood. She then grabs him from his seat before he fights back and runs away with the cash. However, he wasn't fast enough when Nya used her Elemental Powers to defeat him and steals his noodle truck.
After The Mechanic speaks about Nya, Fugi-Dove argues Jay is the worst ninja. When Fugi-Dove soars into the sky after robbing the Ninjago City Bank, he is confronted by Cole, Kai, and Lloyd, who were on hang-gliders, but defeats them easily. Nevertheless, Jay comes out of nowhere and defeats Fugi-Dove by electrocuting him.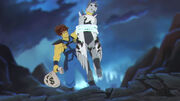 Eventually, they are able to get out of the sewer, but their 15 seconds of freedom were interrupted by P.I.X.A.L. when she catches them once again and puts them back in Kryptarium Prison. This leads to the three of them agreeing that Samurai X is the worst.
Cast
Prison guard 1 - Michael Adamthwaite
Prison guard 2 - Adrian Petriw
Transcript
For the transcript of the episode, click here.
Locations featured
Trivia
Narrator: P.I.X.A.L.
In Hungary and Latin America, the episode was narrated by Ultra Violet.
In Japan, the episode was narrated by Fugi-Dove.
It was paired with "The Message" in most countries.
Images from this episode were shown at SDCC 2019.[3] At the same time, Tommy Andreasen shared production storyboards from the episode on Twitter.[4]
Though Andreasen refers to this episode's animation as "anime-style" (see above reference), it isn't truly "anime," because anime is made in Japan and this episode is simply mimicking the style.[5]
At one point when Ultra Violet, the Mechanic, and Fugi-Dove were escaping, a skeleton can be seen dabbing in the background.
Despite being in the Ice Chapter, the title card for this episode is in the style of the Fire Chapter episodes. This is likely because this episode did not take place in the Never-Realm.
It was originally titled "Worst of All!", or at least it was referred to as such.[6]
The hiding of the escape tunnel behind a poster trick used in Ultra Violet's cell is similar to how Andy Dufresne hid his before eventually escaping through it in Shawshank Redemption.
Jay's "Ninja-ukin" is a pun of a special attack "Hadouken" from Street Fighter.
Characters exhibit several never-before-seen abilities, indicating these abilities were part of the fantasy and cannot be done by the characters in real life:

Ultra Violet ran up a building.
Zane transformed into a spider-like mech version of himself.
Jay was shown to ride lightning and conjure lightning ropes.
Continuity
Killow, Soto, and a few Skulkin also appear in this episode but do not speak.

Zane also appears in Ultra Violet's story but does not speak.

Harumi makes a brief cameo as a silhouette during Ultra Violet's story.
This is the second episode where none of the ninja make a physical appearance, the first being "The News Never Sleeps!."
This marks the debut of the anime-style versions of Ultra Violet, Lloyd, Nya, Zane, The Mechanic, Fugi-Dove, Cole, Kai, and Jay.

This is also the only episode containing anime-style scenes where characters with colored eyes are shown. In all other episodes, the eyes of the characters are black in the anime-style scenes.

The rest of the ninja's eye colors are shown in this episode; Kai has brown/hazel eyes, Jay has blue eyes, Cole has dark brown eyes, and Nya has brown eyes.

It is revealed that Ultra Violet hates Zane the most, The Mechanic hates Nya the most, and Fugi-Dove hates Jay the most out of the ninja.

Eventually, they all agree Samurai X is the worst.
Coincidentally, all three ninja who are hated by them have blue as one of their main colors.

The book that the Mechanic picked up is Boobytraps and How to Survive Them by Clutch Powers.
When Ultra Violet tells her story about how Zane is the worst ninja, she was referring to the episode, "Green Destiny," as she mentioned that she and the Sons of Garmadon were fighting Nya and Lloyd until Zane came in a jet and fought her off until he froze her.
This is the first episode to focus on a villain (or in this case, multiple).
The joke of Fugi-Dove being unrecognized is later referenced in "Ninjago Confidential" when P.I.X.A.L. doesn't recognize his name, despite meeting him and learning his name in this episode.
Errors
In the credits of the episode, the title of the episode ends with an exclamation point.
Note: The following may not be errors, but rather, intentional or irrelevant style differences resulting from the alternate animation style and the fact that the events take place in a fantasy.
The anime-style scenes depict Kai, Jay, Zane, and Lloyd having sleeveless gis.

While Cole was also shown with a sleeveless gi, he was actually wearing it during the events described.

At the beginning of "Green Destiny," where Ultra Violet's made-up story supposedly takes place in, Dareth is with Lloyd and Nya when the Sons of Garmadon are attacking them, however, he is nowhere to be seen in her story.
Also, despite Harumi being deceased at the time of Ultra Violet's story and Killow being presumably still trapped underneath cars as seen in "Saving Faith," they both appear as silhouettes in Ultra Violet's story.

However, it's possible Ultra Violet simply didn't know that Harumi died and Killow was incapacitated when she was attacking Lloyd's group with the SoG, or she just didn't notice that they weren't with the bikers and thought they were there.

Lloyd, Zane, and Nya are wearing their season 11 gis in Ultra Violet's story, despite the fact that her story supposedly takes place in the last episode of Season 9, when they are wearing their Resistance gis.
Despite the Mechanic has brown teeth with one gold tooth, his anime-style version has all the teeth white. Other mistakes in his anime-style version include the lack of a red ribbon on his hat and his glove, both seen on his minifigure form.
Videos
Gallery
For the gallery of the episode, click here.
References