The Sons of the First Spinjitzu Master are the offspring of the creator of Ninjago. The brothers, Wu and Garmadon, were a team who defended Ninjago for centuries prior to the era of the Ninja, and long before the First Serpentine War. Together, they fought many great evils of Ninjago's past, such as the Skulkin, the Serpentine, and the Time Twins.
History
Beginnings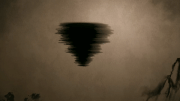 After several millennia of protecting Ninjago, the First Spinjitzu Master eventually felt his time was nearing its end. Wanting to continue his legacy, he fathered two children: his firstborn, Garmadon, with power over Destruction, and Wu, his second-born, with power over Creation.
When the two were young, Garmadon went to retrieve Wu's katana after knocking it over the monastery wall during a sparring match. While reaching for it, he was bitten by the infant Great Devourer, which would go on to be a known as legendary being that could grow forever as long as it consumed, and whose venom could turn the purest of things wicked. The young Garmadon was corrupted by the venom, causing him to become increasingly villainous over time, but it would take many, many years for him to be completely taken over. When they became young men, they swore to protect the Golden Weapons after their father's passing.
Trivia
Wu and Garmadon rarely use their Elemental Powers.
Gallery