Jurassic World: Dominion Dominates Fandom Wikis - The Loop
Play Sound
Not to be confused with the actual race.
"Ladies and gentlemen! Robots and beasts and racers of all kinds! Welcome to the main event, the most dangerous race in all of Prime Empire. The Speedway Five-Billion! And the prize is… That's right. A Key-Tana! But who will take the prize home?"
— Announcer
The Speedway Five-Billion is the eleventh episode of the twelfth season of Ninjago and the 139th episode overall. It aired on April 19, 2020, in Australia, and on April 25, 2020, in Asia, and were both paired up with "Stop, Drop and Side Scroll." It aired in the US on August 16, 2020.
Synopsis
Unagami's soldiers, the Red Visors, finally discover the secret location of Scott's garage and attack the ninja.[1]
Extended: Red Visors discover the location of Scott's garage and Scott sacrifices himself to buy the ninja a chance to escape and they race off. The ninja enter the Speedway Five-Billion in the nick of time, just as the race is starting, and find themselves quickly overwhelmed. Cole and Kai bravely sacrifice themselves to buy their teammates a chance to win.[2]
Plot
After Racer Seven agrees to help the ninja, Scott reveals his hidden garage and ask her if she was followed by any Red Visors. After an intense stare-off, Scott is persuaded and allows her to bring her car inside his garage. Little did they know, Red 29 was spying on them. He then sends Unagami his whereabouts and requests backup, spawning more Red Visors in the area.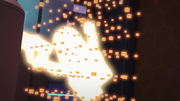 Inside the garage, the ninja tell Racer Seven what Prime Empire really is, as well as Unagami being Milton Dyer. They also tell her the only way to stop him is to get the three Key-Tanas, including the Yellow Key-Tana, which they must win at the Speedway Five-Billion and need her for that. Racer Seven reminisces when Lloyd said she was created to lose, but could change that. She asked how he could be so sure. Lloyd says he is not, but she has to believe in herself and that will help her to win. The alarm rings and Scott checks the camera, spotting many Red Visors outside the garage. Lloyd says he will hold them off, but the ninja refuse. Scott then steps in and says he will keep them busy, as he has been in hiding for 30 years, and what other way to use his last life than to use it for a good cause. Jay promises that they will defeat Unagami and beat the game for him. The Red Visors began to shoot at the garage multiple times, slowly destroying it. The ninja and Racer Seven hop into their vehicles, leaving Cole as the only person without one, so he partners with Kai on his jet.
Scott opens the doors and readies his gun. He jumps out and shoots and defeats multiple Red Visors while being able to seek cover behind a few barrels. With their attention distracted, the ninja and Racer Seven drive out of the garage. As the Red Visors' attention turns to them, Scott jumps out, driving their focus back to him. As Scott attempts to dive back behind the barrels, he gets hit by a shot. Jay takes notice and screams for his friend as he turns into an energy cube. Nevertheless, Jay and his friends continue to make their way to the Speedway Five-Billion. The Red Visors inform Unagami of Scott's "death" and the ninja escaping to the Speedway Five-Billion. Unagami then spawns them cars to use to make sure they end up with the same fate as Scott.
At the Speedway Five-Billion, the race starts, and the "Fast Chickens" arrive just in time to begin as well, along with the Red Visors. Cole holds on while Kai flies around other racers. The former questions why he picked to ride on the back of a jet.
As the race goes on, more and more racers get eliminated. As Jay pulls up front, he gets side to side with Ritchie. They both recognize each other, and Ritchie throws a bomb at him. Luckily, Jay ducks down in time for it to go over his jet and hit another competitor, sending it flying back and hitting other race vehicles as well.
The racers begin to pass the second-mile marker and Nya gets surrounded by the Red Visors. As they try to ram her from both side, she drives back as they collide with each other, then speeds up and knocks them off the track, laughing as a result.
Soon after Kai and Cole get close to a Whack Rat, the Rat gets a loot box. As a result, a spiked wrecking ball gets attached to his car by a chain. Kai manages to evade his attacks, but as Cole dodges, he accidentally gets stuck on the base of the chain. Cole manages to make his way up to the Whack Rat's car and throw its driver out, getting Cole a vehicle of his own. Kai grabs another loot box up ahead. When it seems like it does not do anything, Kai's jet turns into a fast running mech. Kai laughs as a response while he takes out another racer.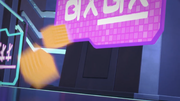 After making their way to the third-mile marker, Nya is almost out of the race due to a fire getting set on the hood of her car, but Racer Seven is able to put it out with an extinguisher attached to her car. Jay then begins to be rammed by the Red Visors from all sides of his jet. Kai and Cole arrive on the scene. Knowing that their friends stand a better chance of winning than them, the two exchange knowing nods. Kai's mech jumps on a Red Visors' car and Cole throws his wrecking ball at two other Red Visors' cars, one being the one he hit with the wrecking ball with and the other he snagged while dragging the other car back. As all the vehicles are about to collide, Kai and Cole wish their friends good luck. A giant explosion occurs and everyone is shocked when two energy cubes fall to the track.
Jay and Nya scream for their friends while Lloyd hangs his head down in despair while Unagami's drones pick up the cubes.
As the Fast Chickens move into second place, they begin to arrive at the fourth-mile marker along with Ritchie and the other Whack Rats. Racer Seven grows nervous, as this is where she always wipes out. She remembers what Lloyd said about breaking her programming and believing herself. Seven speeds up and drives past the other racers, evading their attempts to knock her out. They all pass the fourth-mile marker, surprising the audience by Seven's motives. The Whack Rats then attempt to move her out of first, but the ninja get in their way. Racer Seven crosses the finish line first and wins as everyone cheers.
Jay, Nya, Lloyd, and Racer Seven are crowned the winners of the race and handed the Yellow Key-Tana. Seven hands it to Jay, as he states that they can make Unagami bring their friends back. They just have to get the Orange Key-Tana and confront him. Red Visors begin to appear again and Seven tells them she can handle this. The remaining ninja run off as the Red Visors confront Racer Seven and asks where they are. Seven plays dumb and they claim Unagami will find the ninja. Seven denies this and says that the ninja will be going after Unagami instead, bewildering the Red Visors.
Appearances
Characters
Cast
Non-speaking
Mentioned
Events
Locations
Species
Transcript
For the transcript of the episode, click here.
Trivia
Continuity
Errors
Video
Gallery
For the gallery of the episode, click here.
References
Ninjago

episodes

Pilot episodes

1. Way of the Ninja · 2. The Golden Weapon · 3. King of Shadows · 4. Weapons of Destiny

Mini-movies

1. Secrets of the Blacksmith · 2. Flight of the Dragon Ninja · 3. The New Masters of Spinjitzu · 4. An Underworldly Takeover · 5. Return to the Fire Temple · 6. Battle Between Brothers

Season 1: Rise of the Snakes

1. Rise of the Snakes · 2. Home · 3. Snakebit · 4. Never Trust a Snake · 5. Can of Worms · 6. The Snake King · 7. Tick Tock · 8. Once Bitten, Twice Shy · 9. The Royal Blacksmiths · 10. The Green Ninja · 11. All of Nothing · 12. The Rise of the Great Devourer · 13. Day of the Great Devourer

Season 2: Legacy of the Green Ninja

14. Darkness Shall Rise · 15. Pirates vs. Ninja · 16. Double Trouble · 17. Ninjaball Run · 18. Child's Play · 19. Wrong Place, Wrong Time · 20. The Stone Army · 21. The Day Ninjago Stood Still · 22. The Last Voyage · 23. Island of Darkness · 24. The Last Hope · 25. Return of the Overlord · 26. Rise of the Spinjitzu Master

Season 3: Rebooted

27. The Surge · 28. The Art of the Silent Fist · 29. Blackout · 30. The Curse of the Golden Master · 31. Enter the Digiverse · 32. Codename: Arcturus · 33. The Void · 34. The Titanium Ninja

Season 4: Tournament of Elements

35. The Invitation · 36. Only One Can Remain · 37. Versus · 38. Ninja Roll · 39. Spy for a Spy · 40. Spellbound · 41. The Forgotten Element · 42. The Day of the Dragon · 43. The Greatest Fear of All · 44. The Corridor of Elders

Season 5: Possession

45. Winds of Change · 46. Ghost Story · 47. Stiix and Stones· 48. The Temple on Haunted Hill · 49. Peak-a-Boo · 50. Kingdom Come · 51. The Crooked Path · 52. Grave Danger · 53. Curseworld, Part I · 54. Curseworld, Part II

Chen mini-movies

(non-canon)
1. Chen's New Chair · 2. Chair Play Chen · 3. Chair Up Chen · 4. Chairful What You Wish For · 5. Bad Chair Day

Season 6: Skybound

55. Infamous · 56. Public Enemy Number One · 57. Enkrypted · 58. Misfortune Rising · 59. On a Wish and a Prayer · 60. My Dinner With Nadakhan · 61. Wishmasters · 62. The Last Resort · 63. Operation Land Ho! · 64. The Way Back
Tall Tales (non-canon)
1. The Tall Tale of Flintlocke · 2. The Tall Tale of Clancee · 3. The Tall Tale of Doubloon · 4. The Tall Tale of Dogshank · 5. The Tall Tale of Monkey Wretch · 6. The Tall Tale of Sqiffy and Bucko
Special
Day of the Departed

Operation Heavy Metal

1. Operation Heavy Metal: Machia · 2. Operation Heavy Metal: Buffmillion · 3. Operation Heavy Metal: Blunck · 4. Operation Heavy Metal: Raggmunk

Season 7: The Hands of Time

65. The Hands of Time · 66. The Hatching · 67. A Time of Traitors · 68. Scavengers · 69. A Line in the Sand · 70. The Attack · 71. Secrets Discovered · 72. Pause and Effect · 73. Out of the Fire and Into the Boiling Sea · 74. Lost in Time
Wu's Teas mini-movies (non-canon)
Wu's Teas

Ninjago: Decoded

1. Legacy · 2. Vehicles and Mechs · 3. Legendary Places · 4. Ninjago's Most Wanted · 5. The Digiverse and Beyond · 6. The Elemental Masters · 7. Beasts and Dragons · 8. Rise of Garmadon · 9. Prophecy of the Green Ninja · 10. Greatest Battles

Season 8: Sons of Garmadon

75. The Mask of Deception · 76. The Jade Princess · 77. The Oni and the Dragon · 78. Snake Jaguar · 79. Dead Man's Squall · 80. The Quiet One · 81. Game of Masks · 82. Dread on Arrival · 83. True Potential · 84. Big Trouble, Little Ninjago

Season 9: Hunted

85. Firstbourne · 86. Iron & Stone · 87. Radio Free Ninjago · 88. How to Build a Dragon · 89. The Gilded Path · 90. Two Lies, One Truth · 91. The Weakest Link · 92. Saving Faith · 93. Lessons for a Master · 94. Green Destiny

Tales from the Monastery of Spinjitzu

1. Master Class · 2. Green and Gold · 3. The Weekend Drill · 4. Elemental Rider · 5. Blue Lightning · 6. Samurai X-Treme

Season 10: March of the Oni

95. The Darkness Comes · 96. Into the Breach · 97. The Fall · 98. Endings

Season 11: Secrets of the Forbidden Spinjitzu

99. Wasted True Potential · 100. Questing for Quests · 101. A Rocky Start · 102. The Belly of the Beast · 103. Boobytraps and How to Survive Them · 104. The News Never Sleeps! · 105. Ninja vs Lava · 106. Snaketastrophy · 107. Powerless · 108. Ancient History · 109. Never Trust a Human · 110. Under Siege · 111. The Explorers Club · 112. Vengeance is Mine! · 113. A Cold Goodbye · 114. The Never-Realm · 115. Fire Maker · 116. An Unlikely Ally · 117. The Absolute Worst · 118. The Message · 119. The Traveler's Tree · 120. Krag's Lament · 121. Secret of the Wolf · 122. The Last of the Formlings · 123. My Enemy, My Friend · 124. The Kaiju Protocol · 125. Corruption · 126. A Fragile Hope · 127. Once and for All · 128. Awakenings

Prime Empire Original Shorts

1. Let's Dance · 2. Upgrade · 3. The Meaning of Victory · 4. The Stowaway · 5. Manhunt · 6. Gayle Gossip: A Closer Look

Season 12: Prime Empire

129. Would You Like to Enter Prime Empire? · 130. Dyer Island · 131. Level Thirteen · 132. Superstar Rockin' Jay · 133. I am Okino · 134. The Glitch · 135. The Cliffs of Hysteria · 136. The Maze of the Red Dragon · 137. One Step Forward, Two Steps Back · 138. Racer Seven · 139. The Speedway Five-Billion · 140. Stop, Drop and Side Scroll · 141. Ninjago Confidential · 142. The Prodigal Father · 143. The Temple of Madness · 144. Game Over

Season 13: Master of the Mountain

145. Shintaro · 146. Into the Dark · 147. The Worst Rescue Ever · 148. The Two Blades · 149. Queen of the Munce · 150. Trial By Mino · 151. The Skull Sorcerer · 152. The Real Fall · 153. Dungeon Party! · 154. Dungeon Crawl! · 155. Grief-Bringer · 156. Masters Never Quit · 157. The Darkest Hour · 158. The Ascent · 159. The Upply Strike Back! · 160. The Son of Lilly

The Island

161. Uncharted · 162. The Keepers of the Amulet · 163. The Gift of Jay · 164. The Tooth of Wojira

Season 14: Seabound

165. A Big Splash · 166. The Call of the Deep · 167. Unsinkable · 168. Five Thousand Fathoms Down · 169. The Wrath of Kalmaar · 170. Long Live the King · 171. Escape from Merlopia · 172. The Tale of Benthomaar · 173. The Storm Amulet · 174. Riddle of the Sphinx · 175. Papergirl · 176. Master of the Sea · 177. The Calm Before the Storm · 178. Assault on Ninjago City · 179. Nyad · 180. The Turn of the Tide

Ninjago: Reimagined

1. Golden Legend · 2. Gold Rush · 3. A Day in the Life of a Golden Ninja · 4. Sweatin' to the Goldies · 5. Golden Hour

The Virtues of Spinjitzu

1. Curiosity · 2. Balance · 3. Wisdom · 4. Honesty · 5. Generosity · 6. Courage

Season 15: Crystalized

181. Farewell the Sea · 182. The Call of Home · 183. The Shape of Nya · 184. A Mayor Problem · 185. Public Enemies 1, 2, 3, 4 and 5! · 186. A Painful Promise · 187. Ninjago City vs. Ninja · 188. Kryptarium Prison Blues · 189. Hounddog McBrag · 190. The Benefit of Grief · 191. The Fifth Villain · 192. The Council of the Crystal King · 193. TBA · 194. TBA · 195. TBA · 196. TBA · 197. TBA · 198. TBA · 199. TBA · 200. TBA · 201. TBA · 202. TBA · 203. TBA · 204. TBA · 205. TBA · 206. TBA · 207. TBA · 208. TBA · 209. TBA · 210. TBA
Unknown Ninjago 2023 installment
TBA