Not to be confused with the actual race.
"You said I was programmed to lose. But that I could break my programming. What if you're wrong?"
"You have to believe in yourself."
— Racer Seven and Lloyd
The Speedway Five-Billion is the eleventh episode of the twelfth season and the 139th overall of LEGO Ninjago. It aired on April 19, 2020, in Australia, and on April 25, 2020, in Asia, and were both paired up with "Stop, Drop and Side Scroll."
Synopsis
Unagami's soldiers, the Red Visors, finally discover the secret location of Scott's garage and attack the ninja.
Extended: Red Visors discover the location of Scott's garage and Scott sacrifices himself to buy the ninja a chance to escape and they race off. The ninja enter the Speedway Five-Billion in the nick of time, just as the race is starting, and find themselves quickly overwhelmed. Cole and Kai bravely sacrifice themselves to buy their teammates a chance to win.[1]
Plot
After Racer Seven agrees to help the Ninja, Scott reveals his hidden garage and ask her if she was followed by any Red Visors. After an intense stareoff, Scott is persuaed and allows her to bring her car inside his garage. Little did they know, Red 29 was spying on them and sends Unagami his whereabouts and requests backup, spawning more Red Visors in the area.
Inside the garage, the Ninja tell Racer Seven what Prime Empire really is, as well as Unagami being Milton Dyer. They also tell her the only way to stop him is to get the three Key-Tanas, as well as winning the Yellow Key-Tana in the Speedway Five-Billion and they need her for that. Racer Seven reminisces when Lloyd said she was created to lose, but could change that. She asked how he could be so sure. Lloyd says he isn't, but she has to believe in herself and that'll help her win. The alarm rings and Scott checks the camera, spotting many Red Visors outside the garage. Lloyd says he'll hold them off, but the Ninja refuse. Scott then steps in and says he'll keep them busy, as he's been in hiding for 30 years and what other way to use his last life than to use it for a good cause. Jay promises that they will defeat Unagami and beat the game for him. The Red Visors began to shoot at the garage multiple times, slowly destroying it. The Ninja and Racer Seven hop into their vehicles, leaving Cole as the only person without one, so he partners with Kai on his jet.
Scott opens the doors and readies his gun. He jumps out and shoots and defeats multiple Red Visors while being able to seek cover behind a few barrels. With their attention distracted, the Ninja and Racer Seven drive out of the garage. As the Red Visors' attention turns to them, Scott jumps out, driving their focus back to him. As Scott attempts to dive back behind the barrels, he gets hit by a shot. Jay takes notice and screams for his friend as he turns into an Energy Cube. Nevertheless, Jay and his friends continue to make their way for the Speedway Five-Billion. The Red Visors inform Unagami of Scott's "death" and the Ninja escaping at the Speedway Five-Billion. Unagami then spawns them cars to use to make sure they end up with the same fate as Scott.
At the Speedway Five-Billion, the race starts, and the "Fast Chickens" arrive just in time to begin as well, along with the Red Visors. Cole holds on while Kai flies around other racers. The latter questions why he picked to ride on a jet.
As the race goes on, more and more racers get eliminated. As Jay pulls up front, he gets side to side with Ritchie They both recognize each other, and Ritchie throws a bomb at him. Luckily, Jay ducks down in time for it to go over his jet and hit another competitor, sending it flying back and hitting other race vehicles as well.
The racers begin to pass the second-mile marker and Nya gets surrounded by Red Visors. As they try to ram her from both side, she drives back as they collide with each other, then speeds up and knocks them off the track, laughing as a result.
Kai and Cole get close to a Whack Rat, the Rat gets a Loot-Box. As a result, a spiked wrecking ball gets attached to his car by a chain. Kai manages to evade his attacks, but as Cole dodges, he accidentally gets stuck on the base of the chain. Cole manages to make his way up to the Whack Rat's car and throw its driver out, getting Cole a vehicle of his own. Kai grabs another Loot-Box up ahead. When it seems like it doesn't do anything, Kai's jet turns into a fast running mech. Kai laughs as a response while he takes out another racer.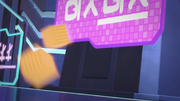 After making their way to the third-mile marker, Nya is almost out of the race due to a fire getting set on the hood of her car, but Racer Seven is able to put it out with the extinguisher attached to her car. Jay then begins to be rammed by the Red Visors from all sides of his jet. Kai and Cole arrive on the scene. Knowing that their friends stand a better chance of winning than them, the two exchange knowing nods. Kai's mech jumps on a Red Visors' car and Cole throws his wrecking ball at two other Red Visors' cars, one being the one he hit with the wrecking ball with and the other he snagged while dragging the other car back. As all the vehicles are about to collide, Kai and Cole wish their friends good luck. A giant explosion occurs and everyone is shocked when two energy cubes fall to the track.
Jay and Nya scream for their friends while Lloyd hangs his head down in despair while Unagami's drones pick up the cubes.
As the Fast Chickens move into second place, they begin to arrive at the fourth-mile marker along with Ritchie and the other Whack Rats. Racer Seven grows nervous, as this is where she always wipes out. She remembers what Lloyd said about breaking her programming and believing herself. Seven speeds up and drives past the other racers and evades their attempts to knock her out. They all pass the fourth-mile marker, surprising the audience by Seven's motives. The Whack Rats then attempt to move her out of first, but the Ninja get in their way. Racer Seven crosses the finish line first and wins as everyone cheers.
Jay, Nya, Lloyd, and Racer Seven, are crowned the winners of the race and handed the Yellow Key-Tana. Seven hands it to Jay, as he states that they can make Unagami bring their friends back. They just have to get the Orange Key-Tana and confront him. Red Visors begin to appear again and Seven tells them she can handle this. The remaining Ninja run off as the Red Visors confront Racer Seven and asks where they are. Seven plays dumb and they claim Unagami will find the Ninja. Seven denies this and says that the Ninja will be going after Unagami instead.
Cast
Transcript
For the transcript of the episode, click here.
Locations Visited
Trivia
Narrator: Racer Seven
Scott, Kai and Cole lose all of their lives in this episode, resulting in them being "cubed".
This episode marks the fifth time we see a Ninja die on-screen, the first being Zane in "The Titanium Ninja", the second being Nya in "The Way Back", the third being Kai in "Superstar Rockin' Jay", and the fifth being Cole, Nya, Jay, and Lloyd in "The Glitch".
The chicken in the crowd wears a small version of Cole's Guzzler.
Nelson, Okino, and the League of Jays make a cameo in this episode.
This is the second episode in the series to focus on a race, the first being "Ninjaball Run."
Errors
When Scott said, "Game on, Unagami," the details on his hat were missing. Seconds later, Scott's legs were missing in the first shot.

The bill in Scott's hat was also mislocated when Scott was sacrificing himself.

In the scene where the Ninja are buckling up in their respective vehicles, Lloyd is shown with his Season 11 gi, whereas the other Ninja are in their correct Digi Suits.
Gallery
For the gallery of the episode, click here.
References
Community content is available under
CC-BY-SA
unless otherwise noted.