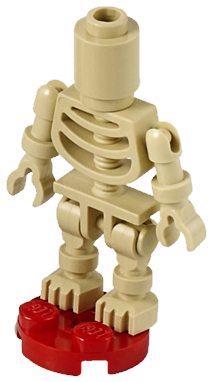 The Training Dummy is a minifigure that appears in a few of the 2011 Ninjago sets. It appears as a tan skeleton with a featureless cylinder replacing its head. Unlike the Skulkin, its arms hang limply, due to the smaller pins that attach them to the torso. As the name suggests, the Training Dummy is used by the Ninja in training, allowing them to practice their combat moves without risking injury.
Although the Training Dummy is exclusive to LEGO sets, several similar objects appear in LEGO Ninjago: Masters of Spinjitzu:
The Ninja's various training courses often include a spinning carousel with several thin wooden cutouts attached to the base, allowing a person to practice battling foes in motion.
Jay built a Sparring Robot aboard the Destiny's Bounty. Unlike the Training Dummy, the Sparring Robot was equipped with numerous weapons and a functional AI, allowing it to counterattack.
In "The Green Ninja," Jay, Zane, and Cole practice their powers against dummies resembling Lizaru. The dummies appear to be made of wood, with a barrel for a body, two short arms, and a blocky head.
Appearances
Gallery
Community content is available under
CC-BY-SA
unless otherwise noted.