Wiki Targeted (Entertainment)
Play Sound
"
Inferior? All living creatures have a place in this world. You should spend more time appreciating the kingdom we currently have, rather than dreaming of long-lost sea monsters.
"
King Trimaar was the king of the Merlopians and the ruler of the Endless Sea.
Trimaar would have a son named Kalmaar, who would grow interest in awaking the long-asleep sea serpent Wojira, as he thought the human race as inferior. Trimaar disliked Kalmaar's obsessions and would tell him that all species have a place in the world. Sometime soon, Trimaar would adopt a child which he would call "Benthomaar". As the years went by, Kalmaar never declared Benthomaar as his brother while still looking to awaken Wojira.
Years later, Trimaar would continue be the king of Merlopia up until Kalmaar getting the Wave Amulet to get closer at awakening Wojira. Kalmaar would then sink the Ninja's ship to discover where the Storm Amulet is. The ninja acuse to Trimaar Kalmaar's actions and Trimaar would punish his son, but Kalmaar blasts him and frames the Ninja for killing the king. Benthomaar struggle to take care of Trimaar. Trimaar uses his last words to tell Benthomaar to help the Ninja escape and stop his brother, before finally dying in Benthomaar's arms.
History
Trimaar, while adventuring with Kalmaar, saw a small boy being attacked by some eels. He stopped the eels and saved the boy, and adopted him, naming him Benthomaar. Throughout the years, Trimaar treated him well, showing him throughout Merlopia.
At some point, Kalmaar found an sea scroll about Wojira's temple. He asked Trimaar about it, but he stated that the Tartarus Trench is a dangerous and forbid Kalmaar from going.
Sometime after the Hydro Bounty was sunken, Trimaar called Kalmaar to ask him if he was responsible for the sinking due to his disdain for those who live on the surface. After Kalmaar lied that he didn't, Trimaar told him that he'll be disappointed in him if he learned the truth.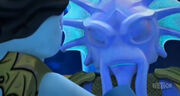 Trimaar called for the ninja to come to him, where he realized that Kalmaar was attempting to summon Wojira and destroy the surface world. After Kalmaar entered the room and explained why he wanted to awaken Wojira, Trimaar doesn't accept his plan and told him that he has no power. In an act of rage, Kalmaar shot an energy bolt at Trimaar, fatally injuring him. Once Trimaar was injured, Kalmaar put the blame on the ninja. Benthomaar entered the room and attempted to get Trimaar to a physician, but to no avail. Trimaar told Benthomaar the truth, telling him to assist the ninja and stop Kalmaar, and died in his arms.
Personality
Unlike his son, Kalmaar, Trimaar was caring and compassionate, as not only did he take pity on Benthomaar by saving him from eels, but he decided to raise him as his own. Despite the humans becoming main population of the realm Ninjago is in after the island was created, he was also to willing to accept the humans to coexist with the Merlopians as long as the two species don't fight.
Relationships
Main article: Trimaar's relationships
Appearances
Trivia
Gallery
Design variants