Jurassic World: Dominion Dominates Fandom Wikis - The Loop
Play Sound
King Trimaar was the king of Merlopia and the ruler of the Endless Sea, Kalmaar's father and Benthomaar's adoptive father.
Trimaar would have a son named Kalmaar, who would grow interest in awaking the long-asleep sea serpent Wojira, as he thought that those who live on land to be inferior, including humans. Trimaar disliked Kalmaar's obsessions and would tell him that all living people have a place in the world. Sometime soon, Trimaar would adopt a baby, which he would call "Benthomaar". As the years went by, Kalmaar never declared Benthomaar as his brother while still looking to awaken Wojira.
Years later, Trimaar would continue to be the King of Merlopia up until Kalmaar getting the Wave Amulet to get closer at awakening Wojira. Kalmaar would then sink the ninja's ship and later discovered where the Storm Amulet was. The ninja accuse to Trimaar Kalmaar's actions and Trimaar would punish his son, but Kalmaar blasted him and framed the ninja for killing the King. Benthomaar struggle to take care of Trimaar. Trimaar uses his last words to tell Benthomaar to help the ninja escape and stop his brother, before finally dying in Benthomaar's arms.
History
Background
Many years before the Great Flood, Trimaar inherited royal power from his father and became the ruler of the Endless Sea. At some point later, he had a son named Kalmaar.
A few years later, Trimaar and his son Kalmaar set out on a trip to explore the Endless Sea on their manta rays, while Trimaar used his chariot. During their trip, Kalmaar told him about Wojira, but when he noticed the wreck of the sunken ship, they came to it. Trimaar tried to change the subject, but failed, and finally had to explain to Kalmaar that he should not hate surface-dwellers, because all living beings have a place in the world. However, their discussion was interrupted when Trimaar noticed eels attacking a baby hidden in corals. Trimaar reacted immediately and, with the help of a trident, scared off all the eels and saved the boy. He then decided to admit him and named him Benthomaar, which means "deep sea."
Over the following years, Trimaar raised his new son and often swam with him in the currents of Merlopia.
A few years later, when Trimaar decided to place his pearls on Undersea Biscuit in the royal manta races, his eldest son Kalmaar came to him and asked him about the sea scroll depicting the Temple of Wojira. Trimaar was angry with him and forbade him to go there, arguing that the Tartarus Trench was a dangerous place and that that was why the scroll was hidden.
Sometime after the Hydro Bounty was sunken, Trimaar called Kalmaar to ask him if he was responsible for the sinking due to his disdain for those who live on the surface. After Kalmaar lied that he didn't, Trimaar told him that he'll be disappointed in him if he learned the truth.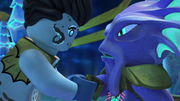 Trimaar called for the ninja to come to him becuase they entered the lands of Merlopia, where he realized that Kalmaar was attempting to summon Wojira and destroy the surface world. After Kalmaar entered the room and explained why he wanted to awaken Wojira, Trimaar didn't accept his plan and told him that he had no power. In an act of rage, Kalmaar shot an energy bolt from his trident at Trimaar, fatally injuring him. Once Trimaar was injured, Kalmaar put the blame on the ninja. Then Benthomaar entered the room and attempted to get Trimaar to a physician, but to no avail. During their journey, Trimaar told Benthomaar the truth about his murder, telling him to assist the ninja and stop Kalmaar, and then died in his arms.
Legacy
After his death, Trimaar's son Kalmaar completely deviated from his rules and laws and enforced his own politics. Nevertheless, Trimaar's adopted son Benthomaar promised his father before his death that he would help the ninja to stop his brother. Trimaar's request thus became the main motivation for Benthomaar in his actions, and his death became the main source of his hatred of Kalmaar, as well as the main reason why he eventually defeated him.
Personality
Unlike his son, Kalmaar, Trimaar was caring and compassionate, as not only did he take pity on Benthomaar by saving him from eels, but he decided to raise him as his own son. Despite the surface-dwellers becoming the main population of the realm Ninjago is in after the island was created, he was also to willing to accept the land-dwellers to coexist with sea folk as long as the two species don't fight.
Trimaar firmly believed that all living creatures have a place in this world, a belief that often led to disputes between him and Kalmaar, who made no secret of the fact that he viewed humans and other land-dwellers as inferior. In this regard, Trimaar also considered Kalmaar's hatred of humans to be meaningless, which he was right, since Kalmaar's hatred was based only on his own prejudices. Trimaar was very concerned about Kalmaar's obsession with Wojira and often tried to convience his son that Wojira had been as much of a threat to the Merlopians as it was to the islanders before and during the Battle of Nine Days, but Kalmaar completely ignored this.
Appearance
Trimaar has purple skin with a pink tinge. He has long tentacles around his mouth that resemble a mustache and goatee. From the sides of his head, two skin formations emerge at the top, with five growths connected by translucent blue membranes. The same formation is also on the back of his head. He has fairly large blue eyes with cyan irises and black reptilian pupils. His chest and abdomen are bright blue with marked abdominal muscles and he has five tentacles instead of legs. He wears an unbuttoned purple vest with pale pink and blue trim and two chest pockets. He also has a gold belt around his waist with several gold chains topped by a sharp formation and golden armor with golden shoulder pads.
Abilities and weapons
Abilities
Merlopian physiology: Trimaar was a Merlopian, an ancient race of sea folk who live in the Endless Sea. He could breathe underwater and on land. Being a Merlopian Royal, Trimaar had tentacles which he could use as legs or as additional arms.

Tentacles: Trimaar had physically capable tentacles.

Suction cups: Trimaar had suction cups on his tentacles that allowed him to stick onto walls and physical surfaces.

Amphibious survival: Trimaar was able to survive on both land and on water.

Hand-to-hand combat: Trimaar was able to perform hand-to-hand combat very well. He easily defeated three eels just using his hands and a trident.
Weapons
Trident: Trimaar owns a powerful trident that is able to shoot powerful electrical bolts capable of injuring someone. He used his to save Benthomaar from all the eels that attempted to eat him.
Relationships
Despite being blood related, Trimaar and Kalmaar had many differences in their relationship as father and son. He disagreed with his son about the surface-dwellers who Kalmaar thought were inferior and Trimaar believed that taking revenge on those who "don't bother us" (those on the surface) was wrong. Kalmaar would at times ask his father questions about sunken ships and Wojira, which unsettled him. Trimaar was eventually killed by his son over their disagreement and seized his throne, becoming the next King of Merlopia.
Benthomaar is Trimaar's adoptive son. He found a young Benthomaar being attacked by eels and helped him. He would raise Benthomaar and treat him no differently than Kalmaar. He and Benthomaar would grow to have a great relationship. When Trimaar was attacked by Kalmaar, he used his last breath to tell Benthomaar of what actually happened to him, tells Benthomaar that he loves him and passes.
Appearances
Etymology
The prefix of Trimaar's name "tri" comes from the name of the Greek god of the seas, Triton, while "ton" is replaced by the word "maar," which comes from the Latin word root "mar"; meaning "the collection of organisms at the bottom of a body of water" and "ocean or pool" respectively. However, in-universe, the suffix "maar" means "sea".[1]
Behind the scenes
His design is the same as Kalmaar's, but he has longer tencacles symbolizing mustache and beard and has a different eye color.
He uses the similar shoulder pads as Kalmaar in the sets, firstly used on Shredder from LEGO Teenage Mutant Ninja Turtles in 2013.
Trivia
Gallery
Design variants
References