Wiki Targeted (Entertainment)
Play Sound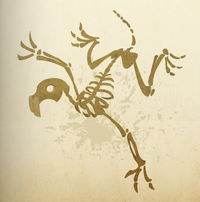 The Underworld's Boney Creatures are a type of "wildlife" in Ninjago. They are the skeletal remains of the various animals that died in the world above, which are somehow brought to the Underworld post-mortem. For some reason, the process also magnifies the size of the remains.
LEGO.com description
WARNING! No worries, you are in the Underworld, so everything here is already dead.
Everything (boney):
Sooner or later, everything somes to the underworld, and when it does, everything is larger than life. For this reason, every animal in the underworld is giant. This makes Ninjago's largest fossil-colossal collection of creepy, crawly, flying, slithering, skull-and-bone creatures.