"I think there'll be some changes in management around here."
The Underworld helmet[1] was Garmadon's first helmet and a symbol of authority in the Underworld. It previously belonged to Samukai. When Garmadon put on the Helmet of Shadows, he left this helmet behind next to the Celestial Clock.
History
Once fallen warriors began to populate the Underworld as undead Skulkin, the helmet was put to use as a symbol of authority amongst the skeletons, with Samukai eventually arriving and seizing it for his own.
With Garmadon banished to the Underworld, the disgraced hero sought a means of escaping the realm by taking control of the Skulkin, and after defeating a vengeful Samukai in combat, donned the helmet for his own.
With the symbol of Skulkin authority now his, Garmadon would proceed to command the skeletal beings, wearing it even after betraying and forsaking the fallen warriors.
Offered the Helmet of Shadows by The Overlord in order to begin the countdown of the Celestial Clock, Garmadon accepted the being's offer, discarding the helmet.
Appearances
Trivia

In the design phase, Kruncha's minifigure wore a helmet that looked identical to the original version of this helmet.
In the sets, the helmet comes in two forms; The first in the 2011 sets, being comprised of the traditional Samurai helmet with the small bone piece, and later the 2012 (and Legacy) version, with the helmet now replaced by the new, narrower helmet used on Samurai X.
It is unknown what happened to the helmet after Garmadon discarded it, though it was likely left on the Dark Island.
There are a few errors involving the switch between the helmets.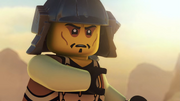 Gallery
Promotional media
The images on Underworld helmet need to be organized.
You can help the Wiki by adding images to the appropriate section on "Underworld helmet."
This template can be removed once images have been organized.
References