MetalHive
"It's payback time!!"
— Samukai to Lord Garmadon
Hi. Now Morro and the Preeminent are dead I'm looking forward to what will threaten Ninjago Next. #bringbacktheoverlord #bringbacksamukai RIP Dr Julien, the nicest guy to ever set foot in ninjago. He will be missed.:(
ALL HAIL CHOKUN!
Favourite Characters
Overall Favourites
Garmadon
Skales
Samukai
Chokun
Clouse
Favourite Ninja
Jay
Kai
Zane
Cole 
Lloyd
Other Heroes
Garmadon
Dareth
Dr Julien
Cyrus Borg
Sensei Wu
Best Villains
The Overlord!!!!
Skales
Samukai
Morro
Clouse
Chen
General Cryptor
General Kozu
Pythor
Soul Archer
Side Characters
Chokun
Kruncha and Nuckal
Villager
The Postman
Ed and Edna
Best Quotes
GARMADON: Good and Evil: There has always been a balance. Where I go, the balance can be destroyed. Soon I will be strong enough to possess the four Weapons, so that I may recreate the world in my image! You! You were always his  favourite!
- Lord Garmadon before entering the Vortex.
LOU: Argh! If my ears weren't attached to my head they'd be running away!
-Lou after hearing the ninjas sing.
GARMADON: You bit me once. Now you'll know what it feels like to be bitten back!
- Lord Garmadon before killing the Great Devourer.
CHOKUN: Look! A pink Ninja!
SAMUKAI: Sensei Wu, your Spinjitzu looks rusty!
WU: Nothing like bone to sharpen its edge, Samukai!
-Wu and Samukai at the blacksmith ambush.
JAY: Is that all the hocus pocus you've got?
Sets
These are all the Ninjago sets I have.
I bought this at Legoland. A really great set to have as it's quite rare and it includes loads of awesome stuff like the Sword of Fire and Kai's spinner and battle cards. It has some nice weapons too.
A good, simple set with a cool bike and characters. I mainly got it for the 

Nunchucks of Lightning

 but the skull function on the bike is also cool.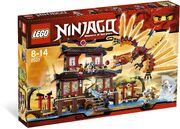 Probably the most awesome Lego Ninjago set ever created. It not only includes all four 
Golden Weapons
 but it also has the epic 
Fire Dragon
.I I really like the the opening temple function as well; it's probably my favourite special function after some of the Power Miners stuff. It also has Samukai, who is my favourite minifigure.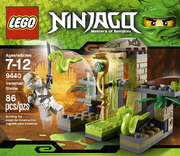 Just a nice little shrine with some snakes and the Venomari staff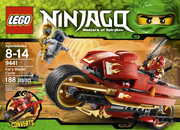 A very cool bike with good minifigures. The blade function isn't that amazing but it's still a really cool set to have. It has a lot of gold.
It's quite cool. I like the snake in the middle and the weapons it comes with. It's not quite as good as the DX one though as doesn't have the fire sword.
It came from a newspaper.
Spinners
Kai DX (from spinjitzu shrine)
Kendo Kai (from training set)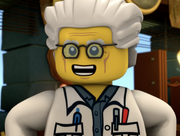 Community content is available under
CC-BY-SA
unless otherwise noted.