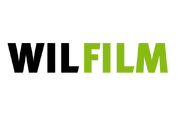 WILFilm ApS is an animation studio located in Denmark. They have made LEGO animations, including commercials and series. They produced LEGO Ninjago: Masters of Spinjitzu for eight years from the pilot episodes up to March of the Oni. WildBrain now replaces WILFlim for the new animation style for Secrets of the Forbidden Spinjitzu and onwards.
Directors at WILFilm
Trivia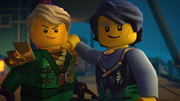 For unknown reasons, the main hair piece used on Lloyd (originally Anakin Skywalker's from LEGO Star Wars) appears to have two variations in the show. The version on Lloyd, Morro possessing Lloyd, and The Royal Blacksmiths member (Day of the Departed onward) appears slightly differently from the physical version, having the front part curved more outward, as well as a few branches outward in the back. The other version more closely resembles the physical version, appearing on Garmadon, the Announcer, Dan Hageman.
In certain instances of headgear (Nya with her Samurai X suit helmet, Zane's noodle factory uniform hat, the ninja wearing Vermillion helmets in "Out of the Fire and Into the Boiling Sea"), a character's hair is not visible even if it would normally be visible from the same angles. This is because the hair would not fit under the 3D model of the headgear.
WILFilm's logo appeared "Chair Play Chen" as the ping pong table brand. The name also appeared in "The Jade Princess", where the sign on a movie theater read "PRESENT BRICK FUN BY WILFILM" in Ninjargon.
According to Tommy Andreasen, "Production problems on HoT [The Hands of Time] caused the vendor to be sacked... which caused the leap in quality for SoG [Sons of Garmadon]."[1]
Besides the upgrade in quality and the ninja switching over to their movie designs, as of Season 8: Sons of Garmadon, there are some small changes to the ways the characters appear, though they are not present in flashbacks to new scenes taking place before Season 8.

Some characters' closed eyes have more of an arch shape, as opposed to the straighter, more simple designs previously used.
Some characters' smiling mouths look different, having a small upward arch in the middle rather than a consistent round curve as previously seen.
Some other things are also improved, such as more details on the straw hat, more realistic trees and plants with many leaves, or much more realistic animals, such as the birds seen in the flashback in "Snake Jaguar".

Whenever a flashback scene occurs, the colors are flatter when WILFilm animates it. This can be seen in "Tick Tock," for example.
Though the "Wu vs. Time Twins" short from Ninjago: Reimagined was animated by CC Pixels Productions,[2] it bears an uncanny resemblance to WILFilm's animation in rigging, details, and lighting, as well as the flex.
Gallery
This is a gallery of abnormal frames in which the animation is used to simulate action or sudden movement.
References
Community content is available under
CC-BY-SA
unless otherwise noted.